Welcome to the Club!
We'd like to welcome our new and returning club members. Our club typically does not meet on any Friday that precedes an extended holiday weekend or when there is a Clayton Chess Tournament later that evening. The gentleman in charge of the Clayton County Tournaments is working on this possibly being held at a different location, but we will stick with our current schedule for now.
Scheduled Dates for 2016 - 17 are on the school's website calendar.
September 16, 23, 30
October 14, 21
November 11
December 9
January 20, 27
February 10
March 10, 17, 24
Fundraisers
There is no cost for joining the Inman Chess Club. We hope to host at least one tournament this year, to raise funds for purchasing supplies (primarily game clocks, batteries, replacement pieces, and tournaments). More info to come!
REMIND
This year, I will use a program called "Remind" to communicate information to club members and their parents. Remind (formerly Remind 101) allows me to send updates, alerts, and reminders via text message and email. The instructions for signing up were attached to your child's Chess Club application, but in case you missed those, simply text this message "@cb26gc" to this number: 81010 and follow the instructions... or click on the following link to sign up:
https://www.remind.com/join/cb26gc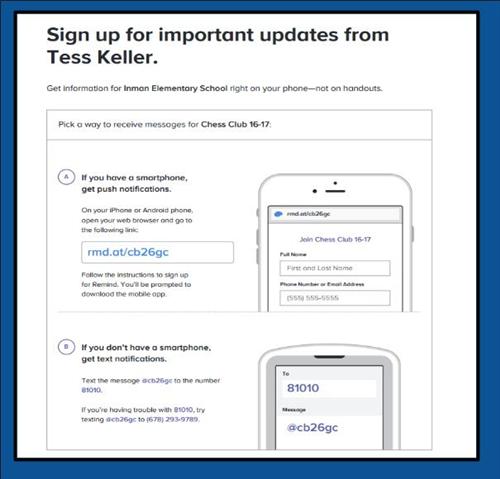 Club Shirts
If you would like to purchase an "Inman Chess Club" embroidered polo shirts, they are now available for $15 each. The shirts are black and are available in sizes youth-large and above (the YM are extremely small, even for our youngest players). If you would like one, please fill out an online order form and send in a $15 payment (cash or check made payable to Inman ES) to Mrs. Keller. You can also order directly from Wear Me Inc. in Fayetteville if you prefer. Thanks!
Resources
I highly encourage club members and parents to make use of free online tools or resource for learning more about chess. One great site is www.chesskid.com. There are also plenty of instructional videos on youtube.com, but students should be supervised by an adult when searching and/or viewing YouTube.
A weekly transportation note is not necessary if you are attending chess club.
Attendance each week is totally optional, BUT...
It's assumed that chess club members ARE staying after unless told otherwise, and...
A reminder will be sent home for any week that chess club will not meet (i.e. tournaments)
Note: Late pick-ups (after 3:40) will still go to ASP, and you may be charged applicable fees.
"Chess teaches foresight, by having to plan ahead; vigilance, by having to keep watch over the whole chess board; caution, by having to restrain ourselves from making hasty moves; and finally, we learn from chess the greatest maxim in life - that even when everything seems to be going badly for us we should not lose heart, but always hoping for a change for the better, steadfastly continue searching for the solutions to our problems."
- Benjamin Franklin
CCPS Tournaments! ** This schedule may be changing for 16-17** Check back soon for more information.
The monthly Clayton County Chess Tournaments will begin in September at Jonesboro High School. If you are new to the Inman Chess Club and/or have never participated in a real chess tournament, please consider attending one of their monthly events. More info at: http://tinyurl.com/monthlychess
AWESOME CHESS NEWS!!! - Inman placed 4th in the National Chess Tournament in Nashville, TN!! You can find this article in The Citizen, as well!
May 6th, 7th, and 8th, six of our Inman Chess Club members travelled to Nashville, TN to compete in the K-6 National Chess Championships. We all stayed at the Gaylord Opryland Hotel, which is where the competition was held. It was our first time ever competing in a large, official event such as this. The tournament was USCF (United States Chess Federation) sanctioned, and there were approximately 2400 elementary and middle school students from across the U.S. and other countries competing in various skill-level brackets. Since this was our first time playing in a USCF event, our team battled it out against 11 other teams in the "Unrated" bracket . We went for the experience, with no real expectations other than learning and having fun. However, our students brought their best, played their hearts out, and we won 4th place! They awarded us a huge team trophy, and each player received a plaque. It was a remarkable achievement, and I'm so proud of them! I'm also very grateful to the parents and grandparents that sacrificed a significant amount of time & money, provided their own travel & accommodations, and served as full-time chaperones for 3 full days and nights. They helped make our dream and vision a reality, and I can't them enough. We hope our experience and accomplishment will motivate others to take up the game, join the Inman Chess Club, and participate in chess tournaments. Check out the team standings here! We are so very proud of our Inman players placing 4th in a National Chess Tournament!