Download the Lunch Menu clicking the link below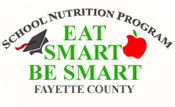 2015-16 Lunch Menu (Middle School)
Please note that the menu items are subject to change.
Reminders:
Deposits can be made into the student's account at any time using a Lunch Money prepayment envelope.
Parents can also pay for student's school meals online at www.myschoolbucks.com.
Parents can monitor student lunch accounts on the Infinite Campus Parent Portal. Simply, log in and click on the "cafeteria" link to check your student's balance.
Fayette County School Nutrition Program is an equal opportunity provider and employer.
Fayette County School Nutrition no discrimina en sus programas y empleo.