Return to Headlines
Food from the heart: McClendon makes meals with love at JC Booth Middle
For Stephanie McClendon, food comes from the heart. McClendon, school nutrition manager at JC Booth Middle, always bakes love into healthy meals for her young Warriors.
Recently crowned as the 2023 Cheryl Calhoun Award winner as the Fayette County School Nutrition Program's top school nutrition manager, McClendon has been with the district since 2015 and a manager at JC Booth since August 2021.
Food has always been a staple. Her grandfather was a farmer, and she was part of the big family, so she learned to cook from an early age. To McClendon, cooking is way of showing love.
"I've been around food my whole life, from picking beans and peas (on the farm), you name it. I grew up in the country," she said. "Food has just always been a part of everything I've done."
Favorite recipes like red velvet cake have been passed down from her mother and grandmother, and now she shares them with her kids.
"I'm a baker," she said. "I've definitely got a sweet tooth."
After she got married and started a family, McClendon jumped at the opportunity to join the School Nutrition Program.
"It was just a great opportunity for me to be able to be involved with my kids, work in the daytime, be out in the summertime, and still be a part of school activities," she said. "It was a win-win."
McClendon's team ensures there is a variety of healthy options each day, and they work with dietary restrictions to make sure students know what they are getting. They prepare food each morning to ensure it is as fresh as possible.
"You want to start it that morning so it's fresh," she said. "It's all about (making) a healthy meal for them."
She loves crafting meals to put smiles on faces.
"Working with food is my passion," she said. "It's something I've done all my life. I wouldn't want to do anything else."
"The Honor Role," an official podcast for Fayette County Public Schools, features employees, rotating through key stakeholders, including teachers, staff, nurses, custodians, cafeteria workers, and bus drivers. Join us as we dive in and learn about their journeys, their inspirations, and their whys.
Episodes are available on all major podcast platforms, including Spotify and Apple Podcasts, and promoted on the social media channels of Fayette County Public Schools.
Episodes will also be available here: https://www.buzzsprout.com/2200811.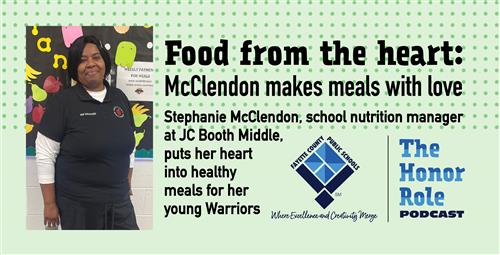 Posted 11/7/2023