Return to Headlines
Life through music: Rhoden leads Tiger bands to greatness
Fayette County High Director of Bands Dr. Myra Rhoden teaches life skills through music. Music has always been a part of her, and she has shared that love with so many over the years.
Music was a mainstay in her household growing up. Her family was always watching performances at home or live nearby at Tuskegee University. Her grandfather was a church musician, playing the organ and singing. Her mother, aunt, and uncles were all in the band. It was a given it would always be a part of her life.
"It wasn't 'Are you going to be in band?' It was 'What instrument are you going to play?'" Rhoden remembered.
Clarinet was her choice, and it was an easy one.
"There was one at the house," Rhoden joked.
It was also what her mother, uncle, and aunt played. Rhoden played the clarinet in high school, and it took her to the University of Alabama.
As successful as she was in school, she was never selected to be a drum major, and she uses that as a lesson for her students.
"If you don't make it, it's not the end of the world. I still get to conduct every day."
There is so much you can do with an arts background, and Fayette County Public Schools sees that potential, putting an emphasis on it. When Rhoden first moved away from Alabama, she had job offers from several areas, but everyone she talked to said it was a no brainer to pick Fayette. Back then and ever since, they have put a priority on well-rounded students.
"The arts is what kept us going during the pandemic. The arts is what people listen to every day," she said. "It makes our society grow, and I think Fayette County gets it."
It's been an honor to see so many of her students go on to play at the collegiate level or even professionally. It is her goal to set up musicians to be successful in whatever they choose next.
"You should be able to walk into any program and be successful regardless of the style, regardless of what part of the country you're in. You can read music, you can follow direction, you can be a team player," she said. "If you have all of those things, you can be successful wherever you go."
She also makes time for her passion project. Rhoden founded the Athena Music & Leadership Camp. The all-female camp is led by an all-female staff, and it helps build up self-esteem and confidence, along with music skills, to help build the next generation of leaders.
Teaching life skills through music is what drives Rhoden.
"They're learning time management. They're learning how to collaborate. They're learning how to deal with different personalities. They're learning how to do simple things like be on time, be responsible for your part, how you as an individual contribute to the whole," she said. "All of these things are skills that they can use in any career, and so we try to develop those skills but we use music to do it."
"The Honor Role," an official podcast for Fayette County Public Schools, features employees, rotating through key stakeholders, including teachers, staff, nurses, custodians, cafeteria workers, and bus drivers. Join us as we dive in and learn about their journeys, their inspirations, and their whys.
Episodes are available on all major podcast platforms, including Spotify and Apple Podcasts, and promoted on the social media channels of Fayette County Public Schools.
Episodes will also be available here: https://www.buzzsprout.com/2200811.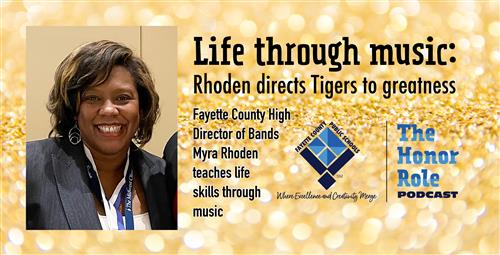 Posted 10/31/2023