Return to Headlines
Planting Seeds: Thompson grows a love of learning at Flat Rock
There are so many ways to grow a love of learning, and Flat Rock Middle's Sarah Thompson is driven to plant the seeds for her young Eagles.
Thompson is a STEAM careers teacher whose course is a completely hands-on way to mash up STEAM and career/employability skills. The beauty of the class is it can be tailored to each student. Lesson plans teach to standards and connect with other classes, but every lesson is new.
"The first 9 weeks is going to look different from the second or third because their learning is different," said Thompson.
The crown jewel is the Food Forest. The program includes a fully-organic, quarter-acre working garden, including a compost row, an aquaponics pond, an orchard, and an emotional wellness walk maintained by students.
"It's a garden that reflects our school. Not only do we have traditional tomatoes and carrots, we also have an international garden," said Thompson. "Wherever our students are from, there's a plant out there in our garden from their native culture because Flat Rock is a very diverse school, and we're proud of that."
The program was a natural fit for Thompson. She was raised with a love of the land. Her grandfather taught high school agriculture, her uncle was a gardener, and her father worked for the US Department of Agriculture.
"I've always grown up close to the land, so that inspired my love of agriculture and my love of everything that's outdoors," she said. "I love to feed kids, and to see the joy in their eyes when they taste something in the garden that they've never tasted before."
Thompson was diagnosed as dyslexic as an adult and it sparked a fascination with the science of learning and how children brains develop and how learning is acquired.
"Everything made so much more sense to me. I always felt like I had to work harder than everybody else," she said. "Because I had to struggle and didn't understand why, that inspired me to learn about learning disabilities and learn about how kids learn and how their brains develop."
After teaching in small private schools in previous years, Thompson was intrigued by the opportunity at Flat Rock, and now she has been an Eagle for 3 years.
"My life changed," she said of coming to FRMS. "I wanted to get closer to home. I wanted to teach the kids that I see at the grocery store or that I pass on my walk, and I can do that because I live in the community. To be out on a walk in the afternoon and hear, 'Hey, Mrs. T!,' it's really special for me."
Thompson finds a thrill in putting her students at ease and showing them they are in a loving learning environment.
"My why is caring. Our schools are big and we have large classes and our days are very busy and they're full and it's important to care," she said. "I love that look that I get when I open a door for them, or when they have fun for the first time in the day, or they feel free or they feel calm or they feel happy. I live for that look."
"The Honor Role," an official podcast for Fayette County Public Schools, features employees, rotating through key stakeholders, including teachers, staff, nurses, custodians, cafeteria workers, and bus drivers. Join us as we dive in and learn about their journeys, their inspirations, and their whys.
Episodes are available on all major podcast platforms, including Spotify and Apple Podcasts, and promoted on the social media channels of Fayette County Public Schools.
Episodes will also be available here: https://www.buzzsprout.com/2200811.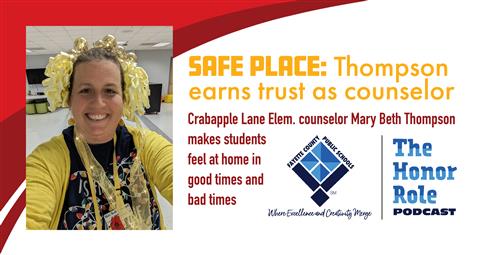 Posted 9/12/2023