Return to Headlines
Behind the Fun: The Halloween Bash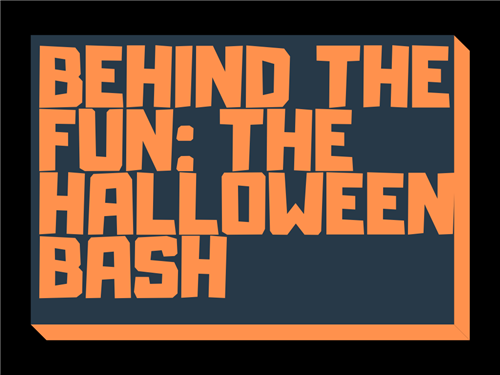 The Halloween Bash was a great success on Fri Oct. 25th. This would not have happened if the PTO had not put so much hard work into it. "When PTO has an idea for an asset like this, we start out by speaking with Mr. Green, your principal, and we have to get approval on both the date and the locations and everything that we're planning for you guys. It all has to go through the front office and to make sure that everything is going to be ready and work smoothly when the event comes." Says PTO Pres. Sharron Sylvester. Mr. Green told us, " So when Mrs. Sylvester from PTO came to me and asked me about the Halloween bash if that would be okay, one of the first things we have to do is we have to check the school calendar to make sure the date works. We have to see if there are any other organizations that are doing anything similar in the past. The student council is a sponsor of this, so we want to make sure that we're not doing something twice. For instance, with costumes, we clarified that people could wear them to the bash, but not during school because we found that that's kind of disruptive. So we just kind of talk through the whole thing and check with the other administrators to make sure that they were on board with it." The next time you attend a J.C Booth function thinks of all the hard work that PTO or anyone else puts into it.
A lot went into making costumes for the bash too. Many costumes at the bash were costumes based on The Purge movie. These costumes were very scary, with an LED mask and black hoodies. Not a lot of effort was needed to make the costumes. We interviewed a few people there, one of which was Avery A. who choose Katniss Everdeen from Hunger Games as her costume. She was introduced to the Hunger Games movies by her parents and she quickly got hooked on the series. She said, "It didn't take me very long because I had this bow for a very long time, and I just ordered the costume."
Other costumes, however, took a very long time to make. 7th Grader Prisha M. spent 20-30 minutes on her realistic makeup for her creepy zombie look. The makeup made her stand out from many of the other costumes at the party. Other creative costumes also included Bob Ross (for which the student used his real hair), a unicorn pilot, and a dinosaur herd. Costumes like these made the party especially interesting. Though many kids came without costumes, the fun could not be diminished. Line dancing was another of the activities that the partygoers could participate in. The dance competition was a phenomenal highlight of the party, and the winner was Tymon H. The other competitions included most original, scariest, and funniest. The three winning costumes were a soviet soldier, Pennywise, and a vampire (not in that order). Students who wore costumes received large bags of candy, a reward for taking the time to be creative.
Created by: Mary-Anne B., Tim F., and Zach P.
Mary-Anne B., Tim F., and Zach P.