Return to Headlines
World Premier of Peachtree City USA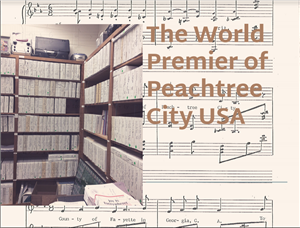 For the first time in history, the song "Peachtree City, USA" has been performed. The Booth chorus performed it on October 7th at their concert in the McIntosh auditorium.
The song has an interesting and rich backstory, that starts with Janice Swank Cunningham, the composer of the song. From her obituary, it is known that Janice S. Cunningham was "...born on October 25, 1930, in Harrisonburg, Virginia".
She was just as successful as her father, if not more, and he was the mayor of her hometown Harrisonburg, and the State Senator of Virginia. "Jan was a very impressive woman with a mind several times larger than her physical body," her obituary states. She received three college degrees, a bachelors in mathematics, a bachelors in music, and a masters in composition. While she was doing all of this, she also raised two daughters, played piano artistically, published several of her own compositions, and ran a piano lessons business.
Mrs. Cunningham wrote the song Peachtree City, USA, which she either gifted or sold to J.C. Booth Middle School. "It was just tucked in...It did not say anything else other than 'Peachtree City by Jan Cunningham,'" Ms. Post said. The box was very vague when it came to the origin of the song, not even including the full first name of the composer.
According to her knowledge, the song had never been sung at Booth, not in her time as a teacher, or otherwise. She questioned the other choral teachers in Fayette County, but none of them had the song or had even heard of it. As this year is the 60th birthday of our city, she taught the song to each of her 6 chorus classes.
Students of these classes had varying reactions. "It took a while just to memorize...It is always hard to memorize the lyrics of a song for the concert." eighth-grader Max T. said. He explained how his class took 2 1⁄2 weeks to finish, despite challenges such as diction.
Another eighth-grader, Rebecca B. said, "It was a really unique song with lots of variations in it. It was a really fun song to sing." She, however, remarked that her chorus class did not master the song until the chorus concert.
"I didn't even know there was a song about Peachtree City." sixth-grader Harper D. said. When asked how long it took to master the song, she replied, "It took us about 3 1⁄2 weeks."
Each of the students agreed to how remarkable the composer of the song was and generally seemed to enjoy singing it.
The Booth Chorus students were the first to perform the song "Peachtree City, USA" and connected to the culture and history of our hometown.
Written by Sophie T. Edited by Lulu V.