Return to Headlines
Honoring Veterans Day at Booth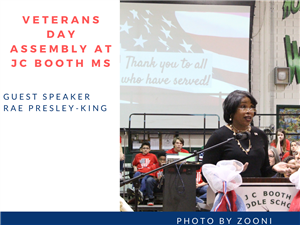 Mrs. Rae Presley-King, or Mrs. PK, as she is fondly known as, is a veteran. She served in the army for a total of 10 years, with 8 of those being active years. Her story is fascinating, she started serving at the 110th Aviation Brigade in Ft. Rucker, Alabama, and then went on to Germany. There she served as an army aviation officer in the 8th Infantry Division and flew helicopters back and forth in the skies above Mainz and Frankfurt.
Mrs. PK got the opportunity to assist the airforce with their mission practice. "So I did a lot of playing with the Air Force by just being their target. And it was so neat because they would salute me in the air by just tipping their wings and I could see their faces. That's how close they were to me," she said. After about 4 years, PK returned to Alabama and retired soon after. Once she retired, she decided that for the next chapter of her life, she would teach, just like her mother. She began working here at Booth for seven years, and formed a connection, first, as a science teacher, and then as an assistant principal. As she says, "I was Mrs. Seabolt for six years here." She went on to Bennets Mill and then began her job at the county office. Though her exciting military days are behind her, she finds her current position at the county office as the director of Fine Arts at the secondary schools in Fayette County just as gratifying.
You can view the Veterans day Assembly by going to the JC Booth Website and clicking on Warrior News under Quick Links. Select the Veterans Day Assembly 2019.
By: Lulu V. with contributions by Kallie M.