Return to Headlines
School Cheer vs. All Star Cheer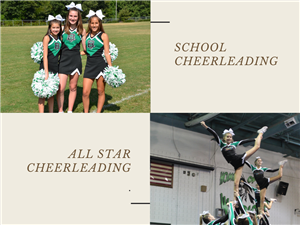 Since 1898 when cheer was first invented, people all around the world have thought that school and All-Star cheer were the same things because they are both a type of cheerleading. Although there are similarities, there are a lot of differences between them.
The main differences between All-Star and school cheer are mainly the location of where they cheer and how they cheer. In school cheer the location where you would most likely cheer at a school game. At school games, the cheerleaders are probably going to be cheering on a hard surface such as a track or football field.
The location where All-Star cheer teams cheer is a tumbling or cheerleading gym. All-Star cheer is more athletic and is all about stunting and tumbling, so that is why they need to practice in a gym with mats and a spring floor.
Another difference between All-Star and school cheer is the uniforms and practice wear. For school cheer, practice wear has to be dress code, but in All-Star cheer, the practice wear is meant to be easy to put on and a uniform that stands out. For All-Star cheer, you might see cheerleaders wearing sports bras and spandex to practices. However, school cheer practice has a dress code.
One more difference between school and All-Star cheer is how flexible the flyers have to be. School cheer flyers may not be as flexible because they don't stunt as much. On the other hand, it is best for All-Star cheer flyers to be very flexible because they stunt more and the coaches might want the flyer to do a position in the air that requires flexibility.
Overall, these are two very different types of cheer that people often mistake to be the same.
Isabella B. Editor Sophie T.