Return to Headlines
Drone Team at McIntosh High Second in Nation
The Peachtree City Droners at McIntosh High have placed second in the nation in their first small Unmanned Aircraft System (sUAS) national competition.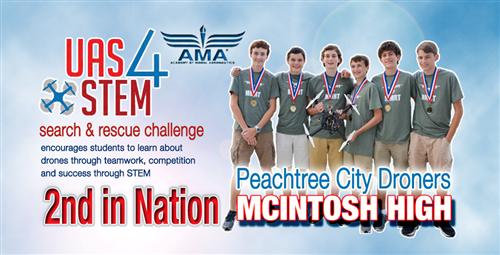 The team was one of 11 from middle and high schools across the country that competed in the first National UAS4STEM competition sponsored by the Academy of Model Aeronautics. The program is designed to encourage students to learn about the sUAS (drone) phenomenon through teamwork, competition, and success through STEM (Science, Technology, Engineering, Mathematics). The competition was held at the International Aeromodeling Center in Muncie, Indiana on August 20.
Not only did the team finish second in the nation, but it was also their first year of working together. The team members are Robbie van Zyl, Parker Korn, Marcus DiBattista, Ian Buckalew, Andrew Walter, and Matt Harmon.
The team qualified for the national competition after winning their regional competition earlier this year. A total of 75 teams took part in regional competitions across the nation, with only 11 of them advancing to the national event.
The UAS4STEM competition is a search and rescue challenge. This year's mission was for each team to use a sUAS to support a search and rescue mission for a small group of hikers who went missing in a remote area. All competitors were required to complete the sUAS ground school curriculum and work together to build a Quadzilla quadcopter.
For more information, contact: