Return to Headlines
Finalists Named for Fayette County Teacher of the Year

Narrowing the field from 26 of Fayette's top teachers down to only three was not an easy task for the judges of the 2017 Fayette County Teacher of the Year. After carefully reading and scoring each essay-style application over a period of two days, three teachers rose to the top, receiving the highest combined scores from the judges.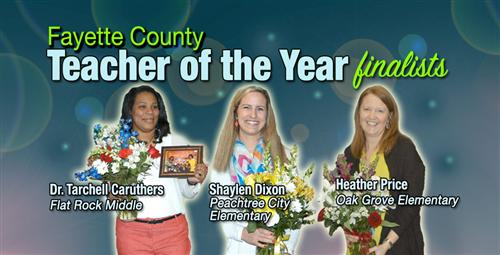 The finalists for the 2017 Fayette County Teacher of the Year honor are Heather Price, Oak Grove Elementary; Shaylen Dixon, Peachtree City Elementary; and Dr. Tarchell Caruthers, Flat Rock Middle.

Next, the finalists will be observed in their classrooms and interviewed by the judging panel, which is comprised of two retired educators and last year's county winner, Suzette Weinhardt of Sandy Creek High. The teacher with the highest combined judges' score will become the next Fayette County Teacher of the Year.

The winner will be announced at the annual celebration on April 20 at New Hope Baptist Church, South Campus, starting at 6 p.m. The event is free and open to the public.

Heather Price, a second grade teacher at Oak Grove Elementary, says she was lead to the teaching profession by the great teachers she had as a student, and her love and passion for working with youth.

While she says all of her teachers from elementary to high school were wonderful, Price especially recalls her high school reading teacher and second grade classroom teacher.

"My second grade teacher noticed my abilities to write stories. I will always remember this, and what a big deal it was for me. Later in life, I realized how I could make that same positive impact for others as a teacher," she says.

Price believes teachers can recognize special characteristics in their students and find ways to make them shine. She says she went into teaching with the desire to cherish and nurture the gifts of her students.

She makes learning fun and memorable. She sets high expectations for all of her students by determining their strengths and weaknesses, and finding ways to reach all of them through differentiation.

"Although I have taught second grade for the past seven years, I never feel like a lesson is just repeated. I have a new group of learners every year so I must consider their skills and background knowledge," Price says.

While it goes without saying that being nominated for teacher of the year by her peers is a very special accomplishment, Price says the most important thing she has done as an educator is to set a strong foundation for her students to build upon in the future.

"I have taught kids to read, write, problem solve, and think for themselves. All of these accomplishments make me proud to be a teacher," she says.

Price has been a teacher for 15 years, all of them at Oak Grove Elementary.

Shaylen Dixon, a third grade teacher at Peachtree City Elementary, admits that she undervalued education, and thought she should be more than "just" a teacher even though she felt that it was her calling in life. Her mother was a teacher and she knew the reality behind the job.

"I always loved children, but that wasn't enough to make me become an educator. I felt like I was capable of more. In my arrogance, I almost missed the point that teachers are people who are wired to serve others, people who seek opportunities for change, and people who realize that knowledge really is a vital component for those around us to reach their full potential," she says.

It was not until Dixon spent two weeks in Ghana, West Africa and witnessed what life was like for people without knowledge and education that she finally understood the value of the calling to teach.

Dixon uses project-based learning, real world math, and hands-on learning to engage students. She and her students build roller coasters that take over the room when they study momentum, force and acceleration, they act out trench warfare, work in tents when studying heat, energy and constellations, and build life size quiet places out of cardboard boxes to bring a simple piece of literature to life. She teaches her students to be independent thinkers, and to be self-sufficient.

"Early in my career I realized that in order for kids to master the content, it had to become part of them, they had to experience it, they had to become emotionally involved, be invested, and be able to apply it. I stopped leading the classroom and let the kids take over, and I became a facilitator. I started making them think for themselves. They started deciding what was best for them, how they were going to succeed. The kids started doing the work, and the kids started reaping the benefits," she says.

Dixon has been a teacher for seven years, and she has taught at Peachtree City Elementary since 2013.

Dr. Tarchell Caruthers, a sixth grade math, science and literacy teacher at Flat Rock Middle, was not serious about school as a student. Her lack of interest in school showed in her failing grades. With no goals set for college or future careers, she says she was on the path of repeating a cycle of poverty. It was an appointment with her high school guidance counselor that sparked a change in her life.

"She evaluated my transcript and said in a condescending manner that I was not suited for college and that I should consider trade school or maybe even a GED program. She also gave me summer school papers to make up the three math classes that I had failed. It was not until that moment that I had given any thought to my future," says Caruthers.

Her mother was adamant about Caruthers graduating from high school and attending college. Caruthers, at 15 years old, had to take a job that summer to pay for summer school. In addition to her self-motivation, she says she was blessed to have Ms. Lyons as her teacher that summer, and she was her inspiration for becoming a teacher and serving others through education.

"Ms Lyons believed in me and worked tirelessly to ensure that I was successful. I will never forget the words she spoke to me at the close of my summer school courses, 'There is something about you. Keep pushing, make great choices, and regardless of your present situation, you will do great things,'" Caruthers recalls.

She says one of her best teacher attributes is to make students feel that their voice is important by creating an environment where there is open communications, fair treatment, encouragement, and support. She works as a facilitator in the classroom to make students self-directed learners while helping them to develop critical thinking skills, knowledge retention, and to foster self-actualization. She is sensitive to her students, and when tasks become difficult, she gives words of affirmation.

"I experience great joy when my students master a concept or accomplish a goal that was challenging or seemed impossible for them. My philosophy of education centers on the belief that all students have a purpose, and can learn and grow when provided with an encouraging environment tailored to their specific needs," she says.

Caruthers has been a teacher for 18 years, she has taught at Flat Rock Middle since 2007.