Return to Headlines
Free Workshop on Employment Skills Development for Young Adults with Special Needs

The Department of Exceptional Children's Services of the Fayette County Public School System is hosting a resource workshop to provide information on services dedicated to helping young adults with special needs develop employment skills.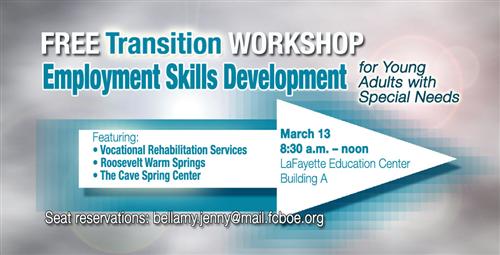 The free workshop will be held on March 13 at the LaFayette Education Center (205 LaFayette Avenue, Fayetteville), Building A, from 8:30 a.m. to noon. It is open to parents and teachers of young adults with special needs ages 18 years and older.

Attendees will learn about transition programs and other services provided by Vocational Rehabilitation Services. In addition, representatives from Roosevelt Warm Springs and The Cave Spring Center will provide valuable information about their facilities.

Although the workshop is free, attendees are asked to register to ensure there is enough seating. To register, email Jenny Bellamy at bellamy.jenny@mail.fcboe.org.