Return to Headlines
School System Shows Appreciation for School Social Workers

School social workers are important members of the Fayette County Public School System's instructional support staff, and play a vital role in helping students meet the academic, social and emotional challenges on the road to becoming successful and productive young adults. This is why the school system will join the nation in celebrating the importance of school social workers by recognizing School Social Work Week March 6-10.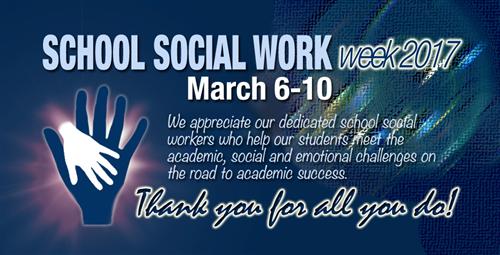 School social workers are specialized instructional support personnel who are the link between the home, school and community. They are trained mental health professionals who can assist with mental health concerns, behavioral concerns, positive behavioral support, and provide services to students, their families, and school personnel to promote and support students' academic and social success.

The Fayette County Public School System is thankful for the support school social workers provide to the county's students, families and school personnel everyday, and encourages the community to join the school system in showing appreciation of school social workers during School Social Work Week 2017.

The School Social Work Association of America, the only national organization exclusively dedicated to the profession of school social work, sponsors School Social Work Week each year during the first full week in March.