North Fayette Elementary and Robert J. Burch Elementary are leading the way in helping students with asthma stay healthy, and in school and ready to learn.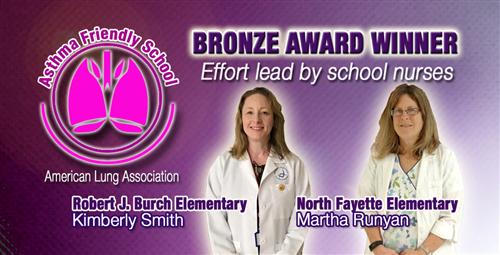 The schools are two of 28 in the state to receive a 2017 Georgia Asthma-Friendly Schools bronze award sponsored by the American Lung Association. The award is given in recognition of schools that have taken positive strides to create a healthier learning environment using the strategies outlined in the Asthma-Friendly Schools Initiative.
School nurses Martha Runyan, North Fayette Elementary, and Kimberly Smith, Robert J. Burch Elementary, lead the way at their schools to implement a comprehensive asthma management plan. The plan includes practices for creating an asthma-friendly school such as maximizing school health services, providing asthma education, creating a healthy school environment, and ensuring all students can participate in physical education and activity.
This is the second consecutive award for Robert J. Burch Elementary, and the first for North Fayette Elementary.