Return to Headlines
Math Teams Earn Top Awards at Fayette County Math Invitational

Varsity and junior varsity math teams at Starr's Mill High had a successful day at the Fayette County Math Invitational, bringing home some of the top awards from the competition.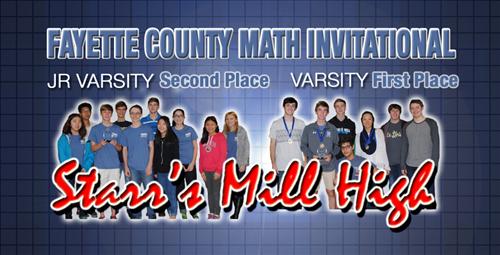 The varsity math team finished in first place. Team members are Joshua Tysor, J.C. Talbott, Jocelyn Gao, Derek Camacho, Colton Hazelton, Max Hodek, and Carter Rezac. Overall individual winners include Joshua Tysor, second place; J.C. Talbott, fourth place; and Jocelyn Gao, fifth place.

The junior varsity math team took second place at the tournament. Team members are Brady Meyer, Laura Anderson, Ashley Fukuyama, Qiru Lin, Elizabeth Marrio, Ally Marshall, Kyle Robinson, Yukimi Ueda, Dalton Walraven, Jay Yao, and Brock Spencer. Team member Brady Meyer placed second in the overall individual winners division.