Return to Headlines
Literacy Initiative Aimed at Helping Students Become Critical Thinkers

Literacy is more than reading and writing. It is the ability to effectively communicate thoughts and knowledge through reading, writing, speaking, and reasoning. It is the higher order thinking skill necessary to become a critical thinker, the constant in student learning and the common connecting thread between subjects.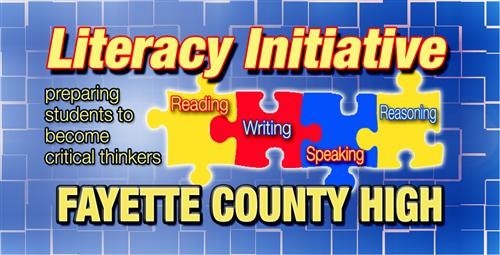 Fayette County High wants to ensure that its students become critical thinkers, and that they are well prepared to enter college and the workforce as independent and successful life-long learners. That is why the school implemented the Fayette County High School Literacy Initiative.

Assistant principal Dr. Brandi Johnson says the school's leadership team and departments decided to put the Literacy Initiative in place after reviewing data from the 2013-2014 College and Career Ready Performance Index (CCRPI).

"The faculty felt that Literacy was one major area that, if improved upon, our student achievement data would increase," she says.

Student achievement on the CCRPI has increased. The school's score jumped from 73 in 2015 to 77.6 in 2016, an increase of 4.6 points.

In its first year of implementation, the school-wide program posted positive results. The initial year centered on Academic Tier 2 vocabulary words, common words that students see across the curriculum. Sixty-six percent of students showed an increased score from pre-test to post-test.

This year the focus is on writing; next year the focus will be on speaking and listening.

The high school has a literacy team made up of volunteer teachers, administrators and counselors. They meet after school to create lesson plans based on the Common Core Georgia Performance Standards for Literacy.

In addition to the classroom lessons, the team has developed activities to encourage students to embrace literacy such as a literacy door-decorating contest in which the first place classroom wins a pizza party. Recently, students took part in a fundraiser for the initiative when the school hosted its first Black History program. The event was titled "Remember the Time: Celebrating Black History through Literacy."

Students cited pieces from various historical authors and poets along with original student work.

To help purchase teaching materials and student incentives for the program, the school has set up a Go Fund Me page at www.gofundme.com/fchs-literacy-team. The school's goal is to raise $500; so far $100 has been donated.