Return to Headlines
Title I Parents Invited to Give Input for Improvement Plan

Parents of students attending a Fayette County Title I school, and community members residing in the attendance area of one of the county's Title I schools, are encouraged to attend a Title Programs Community Connection Forum that will take place on May 2 at the LaFayette Educational Center (205 LaFayette Avenue, Fayetteville) in building A (media center) from 8:30-11:30 a.m.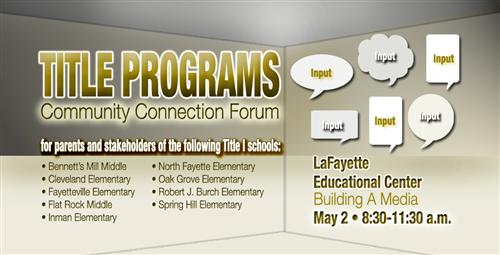 The purpose of the forum is to provide information, and an opportunity for collaboration and shared decision-making regarding the school system's federally funded Title I program. The first half of the forum will be informative, with the second half consisting of breakout teams who will help develop the Comprehensive Local Education Agency Improvement Plan (CLIP) for the 2017-2018 school year.

The school system's Title I schools are Bennett's Mill Middle, Cleveland Elementary, Fayetteville Elementary, Flat Rock Middle, Inman Elementary, North Fayette Elementary, Oak Grove Elementary, Robert J. Burch Elementary, and Spring Hill Elementary.