Return to Headlines
Social Studies Teacher Fourth Inductee into Close Up Hall of Fame

Starr's Mill High social studies teacher Jon Gloer is the fourth person to be inducted into the Close Up Hall of Fame by the Close Up Foundation.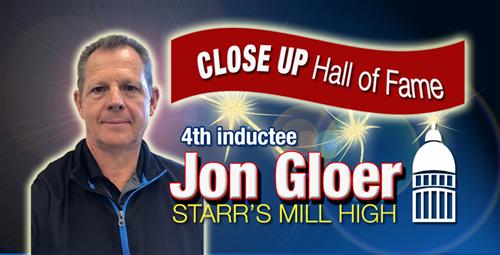 For 30 years, Gloer has sponsored the Close Up program at four different high schools in Fayette County, and has helped dozens of new teachers around the country, and especially in Georgia, discover Close Up. This year, his students from Starr's Mill High made up the largest group in the Close Up Inauguration Program.

Close Up is a non-profit that educates and inspires young people to become informed and engaged citizens. Using the nation's capital as a living classroom, the organization hosts weeklong programs that give students a "close up" view of government and democracy in action as they interact with the people, places, and processes that make Washington, D.C. so unique.

"Jon's support of and passion for Close Up is contagious. Advocating and promoting Close Up is his very successful hobby, and he has brought multiple generations of families on the program. His love for teaching and civic education is unequaled," says Tim Davis, CEO of the Close Up Foundation.

Gloer will be honored at the Close Up Foundation's annual Congressional Reception on April 26 in Washington, D.C. where he will receive a certificate and plaque.