Return to Headlines
Governor's Honors Finalists Named
A total of 19 students from Fayette's public high schools have been selected to attend the 2017 Governor's Honors Program (GHP). These students will be the first GHP class to attend the program on the campus of Berry College June 18-July 15.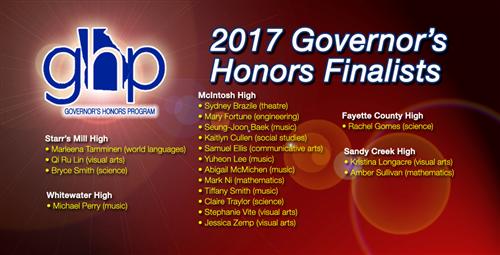 GHP is a four-week intensive study of undergraduate, graduate, and professional-level coursework, and experience in a given field. Students spend approximately 27 hours a week in highly advanced classes in their fields. Nearly 1,700 students participated in this year's state interview and selection process. Between 650-690 students are accepted into the program; there are 20 areas of study. The Governor's Honors Program is fully funded by the Georgia General Assembly, so there is no charge for students to attend.
The following students are among the 2017 state finalists: (Fayette County High) Rachel Gomes, science; (McIntosh High) Sydney Brazile, theatre; Mary Fortune, engineering; Seung-Joon Baek, music; Kaitlyn Cullen, social studies; Samuel Ellis, communicative arts, Yuheon Lee, music; Abigail McMichen, music; Mark Ni, mathematics; Tiffany Smith, music; Claire Traylor, science; Stephanie Vite, visual arts; Jessica Zemp, visual arts; (Sandy Creek High) Kristina Longacre, visual arts; Amber Sullivan, mathematics; (Starr's Mill High) Marleena Tamminen, world languages; Qi Ru Lin, visual arts; Bryce Smith, science; (Whitewater High) Michael Perry, music.
Nomination to the program is a multi-part process beginning at the school system level with an exam in the students' selected subject area. If students meet the cut-off score, they participate in a county-level interview, which determines the nominees who are invited to complete a state application. The Governor's Office of Student Achievement selects a limited number of students to interview at the state level. Finalists are selected from this final group.
GHP is in its 54th year of operation, making it the longest continually running program of its kind in the nation.