Return to Headlines
Students Show Dominance at Tech Competition
For the first time ever, Fayette's elementary, middle and high school students competed in the West Georgia Technology Competition, walking away with 32 percent of the first-place awards, and are now gearing up to compete at the state level.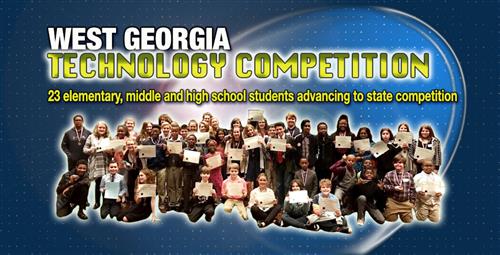 A total of 23 students from six schools earned first-place honors at the competition and are advancing to the Georgia Student Technology Competition in March. They are (Bennett's Mill Middle) Sameeha Lalani, 3D modeling; Laila Reyes and Jayla May, video production; Sabrina Tingle and Samantha Tingle, productivity design; (J.C. Booth Middle) Samantha Cook and Caroline Bach, digital photo production; Hannah Coleman and Shelby Brown, multimedia applications; Mac Dannelly and Jack Hemenway, programming challenge; Owen Doyal and Maddie Shelton, device modification; Emily White and Angela Giovanelli, internet applications; Annebelle Cooper and Reagan Vetter, graphic design; Marc Van Zyl and Jacob Gerson, robotics; Sofi Fuenmayor-Diaz and Claire Lankford, audio production; Vaughn Cesarez and Emma Bednarowski, mobile apps; Jack Lovejoy and Ben Utt, project programming; (Oak Grove Elementary) Ella Griswold, animation; Lilly Hynson and Matthew Hynson, internet applications; Lilly Hynson, tech literacy challenge; (Robert J. Burch Elementary) Lailah Metallo, audio production; Nicholas Jenkins, graphic design; (Sandy Creek High) Daniel Jefferson, robotics; Thurman Blake, video production; (Spring Hill Elementary) Riordan Walls and Joshua Hopson, device modification; Sed Agbemabiese and Myles Thomas, productivity design; and Nasir Wilson and Jeremiah White, video production.
Projects are judged on the intended purpose, understanding and mastery of the software used, creativity in design and presentation, completeness and functionality, and documentation. Not only are students required to use programs or applications to demonstrate their projects, but they must also explain the various aspects of the creation of the project, defend their choice of software, and answer judges' questions. Students have less than 15 to demonstrate and explain their projects
The West Georgia Technology Competition is an annual technology competition for students in the West Georgia region of the state. The competition is open to students who attend public, private and home schools in counties of Carroll, Coweta, Fayette, Harris, Heard, Meriwether, and Troup, as well as the City of Carrollton.
Only first place winners advance to the state competition, which will be held March 10 at Middle Georgia State University.