Return to Headlines
Safety Grant to Help Take Slips and Falls Off the Menu
One thing the Fayette County Public School System's School Nutrition Program does not want to serve up to employees is an entrée of slips and falls, and with the purchase of a high-quality slip resistant shoe for all food service personnel, these will hopefully be nixed from the menu.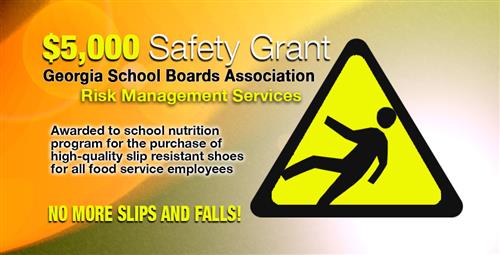 Slips and falls are the most frequent injury to food service workers. Due to the many hazards found in kitchens – water, ice and grease on the floor; spilled food; condensation; hot pans and plates full of food – it's not surprising that slips and falls are common.
The average cost of just one minimal slip and fall to the school system is $2,600, according to School Nutrition Director Kokeeta Wilder. That is why she applied for a safety grant from the Risk Management Services division of the Georgia School Boards Association.
Fayette was among 13 school systems throughout the state to receive a safety grant out of the 50 that applied. The school system received a $5,000 grant, the maximum award available.
Wilder says the money will be used to purchase quality slip resistant safety shoes for all school nutrition employees. Many shoes are labeled as "slip resistant," but are often not effective for food service personnel who work in hazardous conditions.
"Many of our employees are on a low, fixed income and can only afford a low-quality slip resistant shoe," Wilder notes.
She is working to eradicate low-quality slip resistant shoes, which provide a false sense of safety, from school kitchens and replace them with a high-quality shoe that not only will prevent slips and falls, but also increase productivity since the better shoes provide a higher level of comfort and support.
"We are so excited about receiving the Georgia School Boards Association Safety Grant. The purchase of the shoes will go a long way toward lowering cost by reducing work injury claims and additional substitute labor to cover expenses," Wilder says.
This is the fourth year the Georgia School Boards Association Risk Management Services has offered the safety grant program, and it is the first time that the schools system has received one of the grants.