Return to Headlines
Fourth Fayette School to Earn Franklin Covey Lighthouse School Status
Franklin Covey's "The Leader in Me" program has awarded another Fayette elementary school with its highest and most coveted honor.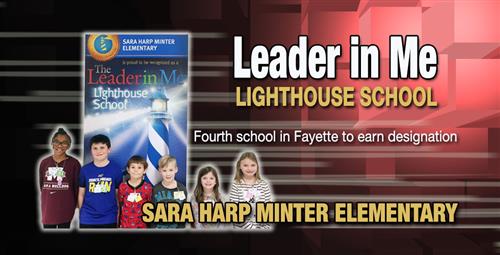 Sara Harp Minter Elementary is the fourth school in the county, and one of just nine in Georgia, to earn the "Leader in Me Lighthouse School" designation. Currently, there are 358 schools in the United States and 413 worldwide that have been awarded Lighthouse School status.
Sara Harp received this recognition because the school has achieved outstanding results in school and student outcomes by implementing The Leader in Me process with fidelity. It is also because of the extraordinary impact the school is having on staff, students, parents, and the greater community.
The Leader in Me is a whole-school transformation model, developed in partnership with educators, that empowers students with the leadership and life skills they need to thrive in the 21st century. It is based on secular principles and practices of personal, interpersonal, and organizational effectiveness.
Lighthouse schools serve as models of leadership, and as mentors to other schools. Spring Hill Elementary was the first school in Fayette to earn Lighthouse School status in 2016, Fayetteville Elementary followed in 2017, and Braelinn Elementary earned the designation in 2018.
"We are honored to become a Leader in Me Lighthouse School. We have seen such amazing results from implementing The Leader in Me process at our school, such as an increase of student leadership roles, growth in academics through student goal-setting and ownership of learning, and an overall commitment to teaching the whole child. When you walk in our doors, you know that every person matters and will be given opportunities to be a leader. We expect to see even greater results over time," says Erinn Angelo, principal of Sara Harp Minter Elementary.
To earn Lighthouse School status, schools must meet nine standards that include a school Lighthouse team to oversee the implementation of the model, a school environment that reinforces the leadership model, integration of leadership language into daily curriculum and instruction, collaboration of staff to build leadership in classrooms throughout the school, meaningful leadership roles for students, parental involvement supporting the leadership model, hosting school events to share the leadership model with other schools and the community, goal tracking at the student, classroom, and school-wide level, and measurable improvements as a result of implementing the Leader in Me process.
A review team from Franklin Covey evaluates schools for the designation. Franklin Covey co-founder Stephen Covey authored "The 7 Habits of Highly Effective People" and "The Leader in Me." The books are the basis of the Lighthouse leadership program.