Return to Headlines
Young Scientists Headed to Georgia Elementary Science Olympiad
Young scientists from Peeples Elementary and Oak Grove Elementary schools will represent Fayette County at the Georgia Elementary Science Olympiad.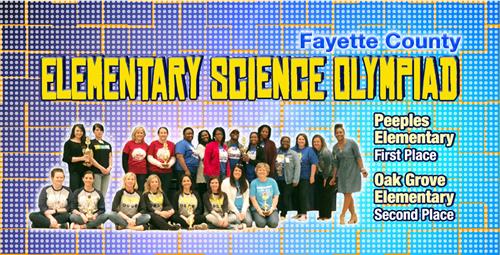 Students from Peeples and Oak Grove secured an invitation to the competition by taking first and second place, respectively, at the Fayette County Science Olympiad on March 2 at Sandy Creek High School. Over 340 students from elementary schools throughout the county took part in the competition. Only the first and second place teams from school systems throughout Georgia receive an invitation to the state competition, which will take place May 13 at Kennesaw State University.
Science Olympiad is a hands-on, fun science event where students compete in science activities throughout the day. Winning at Science Olympiad is all about teamwork and practice. Teams are composed of up to 20 third through sixth grade students, and they are required to practice at least one hour per week either before or after school. There are 18 competitive events that students must complete in order to advance through the competition.
Other school teams finishing in the top six at the Fayette County Science Olympiad include Crabapple Lane Elementary School, third place; Peachtree City Elementary School, fourth place; North Fayette Elementary School, fifth place; and Braelinn Elementary School, sixth place.
In addition to participating in competitive science events, students were also able to explore special showcases presented by various organizations within the county. Showcase sponsors included 4H, Operation Teach Mobile Planetarium, Fayette County Fire Truck First Responders, Airlife Helicopter, Fayette County/Peachtree City Joint SWAT team, and Whitewater High School STEM & National Science Honor Society teams.