Return to Headlines
Students Take to the Skies in a Cessna 150 at Rising Starr Middle
The experience of flying an airplane is about as real as it gets without actually taking a plane up in the air now that there is Cessna 150 fuselage in Bob Didier's technology lab at Rising Starr Middle.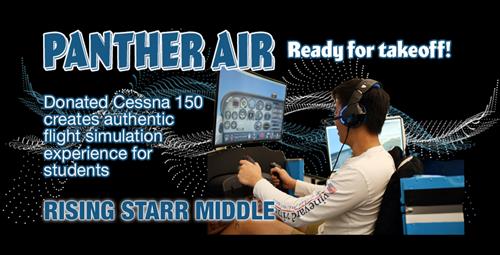 The fuselage is a key component to the flight simulator that was already in the classroom. As students fly along in the simulator, the scenery changes as if they were flying, and now with the addition of the fuselage, they can sense what it actually feels like to be in a cockpit of a real airplane. The combination creates a more realistic experience than the simulator alone.
This all happened thanks to Starr's Mill High School student Roc Lin who suggested that having an actual airplane connected to the flight simulators would provide an authentic flight experience. When Roc brought the idea to Didier, he agreed and challenged him to make it happen. Roc reached out to Susan Dilday of Atlanta Air Exchange with his idea, and she agreed to donate the fuselage of a demolished Cessna 150.
Of course, the fuselage was in great need of restoration before it could be used. That's where a team of aviators stepped in to help. Randy Hawkins and other members of the Commemorative Air Force Dixie Wing in Peachtree City took the plane back to their workshop to be restored, modified, and painted.
"Without his help, the plane would not be what it is," says Didier, noting that Hawkins is a parent of a former Rising Starr Middle student.
A couple of teachers also pitched in to help. Eric Todd, a computer teacher at Rising Starr, painted "Panther Air" on the back of the aircraft, and Didier's wife, Ann, an eighth grade math teacher at Bennett's Mill Middle, recovered the seats and the restored the vinyl work on the sides of the plane.
Also assisting with the restoration were Dennis Troutman, who did the metal work on the seat hinges, and Kemps Dalton West donated the carpet for the inside.
An unveiling of the Cessna 150 fuselage and flight simulator took place at Rising Starr on April 26 with everyone involved in the project present to celebrate. Roc Lin, the student whose idea started it all, was the first person to try out the new simulator.