Return to Headlines
Vaping PSA Wins First Place in Governor's Red Ribbon Competition
Vaping is becoming an epidemic in schools and threatening the lives of students across the nation. Many youth and adults believe the liquid used in electronic cigarette devices is nothing more than flavored water, but that is far from the truth.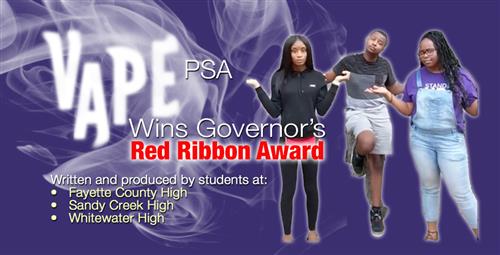 To help educate students and parents about the dangers of vaping, five students from Fayette County High, Sandy Creek High and Whitewater High schools got together to write, film and produce a public service announcement (PSA) for Drug Free Fayette, an initiative to reduce teen substance abuse throughout the county. The PSA was entered in to the Governor's Red Ribbon Award Competition where it took first place.
The students are Destinee Harris, Fayette County High; Chyna Gibson and Bethelehem Woldegabriel, Sandy Creek High; and Derrick Buie, Kelly Padilla and Alyssa Wright, Whitewater High. The Red Ribbon Award recognizes schools, groups and communities that have done an exemplary job promoting and educating others about substance abuse awareness, drug-free living, and healthy lifestyle choices.
The PSA, titled "What Do You Know About Vaping," features the students going around the county randomly asking both adults and teens what they think they know about vaping, and then exposing some of the dangerous facts. Most people interviewed either did not know what vaping was or thought the liquid was nothing more than water vapor. At the end of the video, the teens reveal that vaping liquid often contains diacetyl, a toxic chemical linked to lung cancer, high levels of nicotine, and metals such as lead.
All of the students involved in the making of the video are members of the AVPRIDE Fayette Youth Leaders PRIDE program, which represents Fayette County's most innovative, influential and ambitious student leaders. Each year, members attend the Georgia Teen Institute Conference where they spend four days discussing what they feel is the most important issue facing their peers in Fayette County, and then create a project and plan of action for the year. That is how the vaping PSA came about.
Meredith Bragg, AVPRIDE youth programs coordinator, says five student leaders will attend the conference again this summer, and due to the use of vaping devices by teens in the county, will most likely choose to focus their year-long project on vaping again.
The video can be viewed on YouTube by searching "Drug Free Fayette Georgia" and scrolling down to the video titled, "What Do You know About Vaping."