Return to Headlines
Fayette County Education Foundation/Heritage Community Foundation Support Community for Creativity
One good turn deserves another, that is exactly what happened when the Fayette County Education Foundation received a $2,500 grant from the Heritage Community Foundation.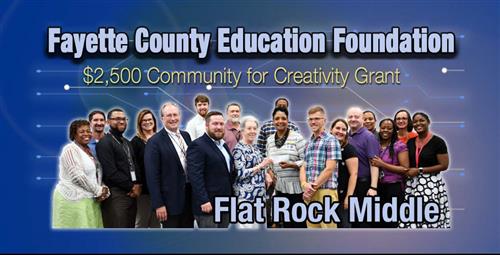 Knowing that a new program called the "Community for Creativity" was starting at Flat Rock Middle this school year, the Fayette County Education Foundation wanted to help the school with startup costs so it applied for a grant through the Heritage Community Foundation, a nonprofit fully funded and supported by Heritage Bank. The organization provides funding to local nonprofit organizations within Clayton, Henry and Fayette Counties.
The Fayette County Education Foundation was notified in July that the grant request had been approved, and then immediately informed the administration and Community for Creativity program coordinators at Flat Rock Middle about the donation.
"We are absolutely thrilled and appreciative that the Fayette County Education Foundation applied for this grant on behalf of the Community for Creativity program, and we thank the Heritage Community Foundation for approving the foundation's grant request and realizing the value that this program will bring to the students at Flat Rock Middle," says principal Jade Bolton.
The Community for Creativity, which started at Rising Starr Middle last year and is now expanding to schools across the county, highlights jobs in Georgia's creative economy with the instructional focus varying by location, and program offerings that are unique to that campus. The instructional focus at Flat Rock is STEAM (science, technology, engineering, art, math). Students will learn the roles these subjects play in advancing technologies in creative industries such as video, movie and music production, theatre, digital and graphic arts, and videogame design, to name a few.
Board members of the Fayette County Education Foundation attended Flat Rock Middle's first faculty meeting of the year to present the $2,500 check to Bolton and the teachers of the Community for Creativity.
"The mission of the Fayette County Education Foundation is to support our public school system's teachers and programs that are advancing the education of our students in innovative, creative and meaningful ways that will enable our graduates to be skillful, competitive and successful in their future careers," says Fayette County Education board member and treasurer, Melinda Berry Dreisbach.
The Fayette County Education is a nonprofit organization that solely supports the schools and teachers of the Fayette County Public School System by providing funding for innovative educational opportunities that are not provided for in school budgets. The charity is a registered nonprofit on GuideStar, an online database of charities and nonprofits that have been vetted for legitimacy. Learn more by visiting www.guidestar.org and searching for Fayette County Education Foundation Inc, and by visiting the foundation's website, www. fayettecountyeducationfoundati on.com. For donation information, contact Melinda Berry Dreisbach, Fayette County Public Schools, berrydreisbach.melinda@mail. fcboe.org or call 770-460-3535.