Return to Headlines
Public Relations Department Wins Three IABC Golden Flame Awards
Proving that its work is on par with major corporate communications divisions across Atlanta, the public relations department of the Fayette County Public School System has won three Golden Flame awards from the International Association of Business Communicators (IABC) Atlanta.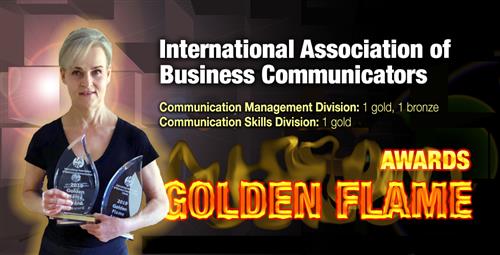 Public Information Officer Melinda Berry-Dreisbach was among 46 communication professionals representing 18 companies and organizations who received a 2019 Golden Flame Award, which recognizes exceptional work in the areas of communication, marketing and advertising.
Entries do not compete against each other, but are judged on their own merits based on IABC's Global Seven-Point Scale of Excellence for strategic planning and execution. The judging panel for each division is made up of international peer-professionals.
Berry-Dreisbach won two awards in the Communication Management division. She won a gold award in the community relations category and a bronze award in the nonprofit campaign category for marketing and communication of the Fayette County Public Schools Ticket to Ride Realtor Tour of Schools and the Fayette County Education Foundation Employee Giving Campaign, respectively. Entrants in this division are required to submit a four-page work plan along with work samples. Scoring is equally divided between the work plan and work samples. Berry-Dreisbach was one of two winners in the community relations category and the only winner in the nonprofit campaign category.
She also won a gold award in the Communication Skills Division, writing category, for her press release titled, "Students Escape Chemistry Class with Help from the Fayette County Education Foundation." Scoring in this division is based on the work sample's creativity, professional execution and alignment. She was one of three winners in this category.
Berry-Dreisbach won two of the 26 gold awards and one of 14 bronze awards that were presented at the annual awards gala that was held in Atlanta in November.
Fayette County Public Schools was among some of the top state and national corporations receiving awards, including Georgia Power, Cox Enterprises, Roundtree Group Integrated Communications (an international public relations firm), Piedmont Healthcare, and Southern Gas Company.
IABC Atlanta is the premiere professional communications association that provides professional development, networking and best practices for a broad range of communication professionals at all career levels. With membership across internal and external communications, as well as executive, marketing and public relations sectors, the association provides unique networking events and learning opportunities for communication professionals to advance their careers and build meaningful connections within the Atlanta community.