Return to Headlines
Students Bring Home Top Awards from State Science and Engineering Fair
The original scientific research of Fayette's middle and high school students earned top honors at the 71st Georgia Science and Engineering Fair, which was originally scheduled to take place at the Classic Center in Athens, but shifted to a virtual event this year due to concerns with COVID-19 (coronavirus). A total of 22 students received first, second, third, and fourth place ribbons for their projects.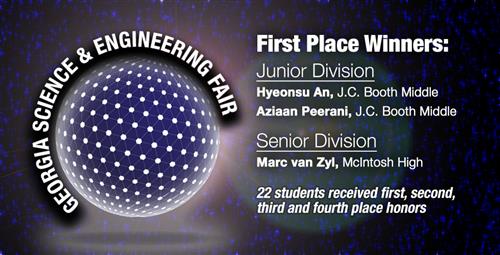 Three students received first place awards in the junior and senior divisions: Hyeonsu An and Aziaan Peerani, both from J.C. Booth Middle; and Marc van Zyl of McIntosh High.
As a first place senior division winner, van Zyl qualified to advance to the Regeneron International Science and Engineering Fair this summer. Fellow competitors Seung-a Baek, also from McIntosh, along with Aleksander Stec, from Sandy Creek High, were automatically advanced to the international competition based on their performance at the regional fair. However, due to safety concerns, the international fair has been cancelled this year.
Second place finishers in the junior division include Roshan Kolachina of J.C. Booth Middle, and Liam Begley and Ryan Sexton, both from Rising Starr Middle. In the senior division, Joseph Metzier Concepcion of McIntosh High and Cayden Shaffer of Whitewater High were awarded second place honors.
Third place honors in the junior division went to Alex Keele, Tyler Klinger, and Carpenter Ray, all from Whitewater Middle; and Harsh Singh from J.C. Booth Middle. In the senior division, Leah Enterkin of Whitewater High and Annabella Orndorff and Charlotte Craner, both from Starr's Mill High, received third place ribbons.
Seven students took fourth place honors in the senior division. They are Justus Fields and Yarithe Karim, both from Fayette County High; Alexa Markley, Anna Nam, Carly Nixon, and Karena Pemu, all from McIntosh High; and Alina Sullivan from Whitewater High.