Return to Headlines
Rising Starr Principal Shares Innovative Ideas with Chinese School Administrators
"Alone we can do so little; together we can do so much." This was the focus of the 10-day trip to Hangzhou, China that Rising Starr Middle principal Nancy Blair took with the National Forum to Accelerate Middle-Grades Reform. The purpose was to share innovative programs and practices being implemented in the United States with Chinese middle school administrators.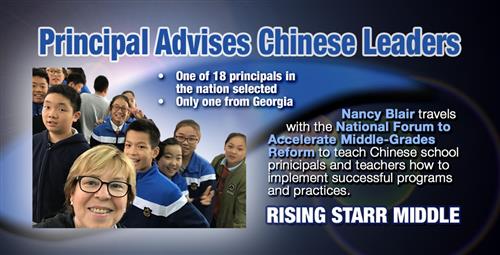 The National Forum to Accelerate Middle-Grades Reform is an alliance of over 60 educators, researchers, national associations, and officers of professional organizations and foundations committed to promoting the academic performance and healthy development of young adolescents.
Leaders of the Zhiejiang Province learned about these impactful practices and programs after visiting Indianapolis middle schools back in January. Impressed by what they saw, the Chinese leaders invited United States middle school principals into their classrooms with hopes to learn and replicate the practices and programs.
Principals were selected based on their school's placement in the Schools to Watch Program, which identifies schools across the United States that are progressively meeting the Forum's criteria for high performance; schools must be academically excellent, developmentally responsive, and socially equitable.
Rising Starr Middle has been on the Georgia Schools to Watch list since 2004, having been re-designated a total of four times. Schools have to reapply for the designation every three years.
Blair was among 18 middle school principals, representing 10 different states, who was invited to go on the trip. She was the only principal from Georgia.
Each Schools to Watch principal had the opportunity to tour Chinese middle schools, which Blair was particularly impressed with, stating, "Most schools had multiple, gorgeous buildings on park-like grounds. Plants and water features abound."
Principals also benefited from interacting and sharing ideas with school leadership and providing professional development for Chinese middle school principals.
Discussions between Chinese middle school principals and United States principals included "the importance of global connections and educating the whole child, no just focusing on academics" Blair says.
They were given the opportunity to go into some of the classrooms where they interacted with students as well as the faculty and staff.
Blair also learned that Chinese middle school teachers only teach three or four periods out of an eight-period day. The remainder of the day is used for teachers to prepare for instruction, assess student work, and collaborate with other teachers. Blair describes this as "a very effective professional learning opportunity."
With a trip full of opportunities to learn and teach on both sides, Blair says, "The visit confirmed my belief in the similarities of children in any culture and the need to educate the whole child by providing opportunities for passion-based learning and growth experiences that develop soft skills."