Return to Headlines
Bus Drivers Honored at Annual Luncheon
With the school year coming to an end, Fayette County's school bus drivers are making their final routes, but not without being recognized for their hard work and dedication.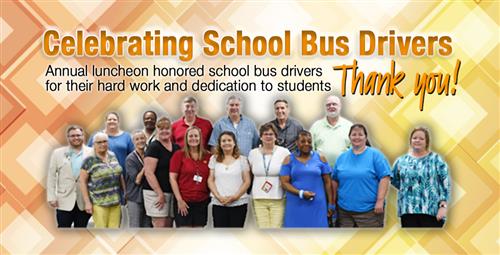 Over 60 Fayette County school bus drivers were honored with a special luncheon for their service during the 2018-19 school year.
School bus transportation plays a critical role in students' education, as bus drivers are responsible for transporting the world's most precious cargo – children – from the neighborhood to the classroom each day.
Although every Fayette County bus driver is appreciated, the transportation department gave special recognitions to Doris Rockhill, Angela Vernon, and Teresa Williamson who have been driving with Fayette County for 20 years.
Twenty-four school bus drivers were honored for having perfect attendance during the school year; this means they have worked 180 school days.
Special recognitions were also given to 24 bus drivers who were named the 2019 School Bus Driver of the Year. Every school in Fayette County selected a bus driver who goes above and beyond each day to transport and care for hundreds of students. Several assistant principals were in attendance and presented their schools' bus driver of the year with an honorary plaque.
Applauding drivers for their commitment, Mike Sanders, assistant superintendent of operations for Fayette County Public Schools said, "I have worked with three different school systems and Fayette County really does have the best bus drivers. Your dedication and hard-work does not go unnoticed."
Congratulations to the following 2019 Fayette County School Bus Drivers of the Year:
· Dana McDonald and Tina Bavaro, Bennett's Mill Middle
· Judy Kilpack, Braelinn Elementary
· Michael Callahan, Cleveland Elementary
· Michelle Sherman, Crabapple Lane Elementary
· Krystyna Koutsounadis, Fayette County High
· Thamasha Arnold, Fayetteville Elementary
· Sheila Williams, Flat Rock Middle
· Glen Cunningham, Huddleston Elementary
· Christy Matthews, Inman Elementary
· Marysol Nevarez, J.C. Booth Middle
· Kelly Ranes, Kedron Elementary
· Joe Wortham, McIntosh High
· Erick Jefferson, North Fayette Elementary
· Leonard Roberson, Oak Grove Elementary
· Susan Waller, Peachtree City Elementary
· Bob Sharpe, Peeples Elementary
· Don Graham, Rising Starr Middle
· Shawna Davis, Robert J. Burch Elementary
· Mac Murrah, Sandy Creek High
· Evie Campbell, Sara Harp Minter Elementary
· Robert Corleto, Spring Hill Elementary
· Tara Bradshaw, Starr's Mill High
· Lorraine Eidson, Whitewater High
· Tina Barrett, Whitewater Middle