Return to Headlines
Champions find a way: Colvin's soccer dynasty built on determination
Bunky Colvin doesn't back down from a challenge. Hard work and a big heart have brought him great success, even against the toughest odds.
The McIntosh High social studies teacher has been a key piece in building the Chief soccer dynasty. Since 2000, he has led the team to 7 state championships and multiple national championships. If not for the love of his mother, it may have never happened.
Colvin was born extremely premature, and doctors warned his mother he might not make it.
"When I was born, initially, she said I was so tiny that she didn't even get to hold me. They immediately took me and put me in an incubator," he said. "They actually told her not to name me. They said, right now, let's just say 'Baby Colvin.'"
His mom wouldn't let the doctors give up.
"She was the toughest person I've ever known in my life."
A third round of blood transfusions was needed to get his jaundice to clear, but he made it.
For much of his early life, he did not get to play many sports. He always wanted to, but a series of surgeries and therapy kept him away. Inspired by the Summer Olympics, he wanted to take up running, and his mother helped him dive in.
A chance meeting at a race with Jeff Ford, the Hall of Fame McIntosh soccer coach, sent Bunky down a fortuitous path. Ford offered to take him to future races, then later invited him to participate in a summer soccer clinic.
"I loved it. I absolutely loved it," he remembered of his first experience with soccer. "I always wanted to be a part of a team, and that was my chance to be a part of a team."
He was hooked right away. He would watch soccer every weekend at his grandparents house, and he played every chance he got. He was super new to the game, but he was determined to work until he succeeded. It led him to a spot on his high school team as a freshman and later a walk-on roll to kick off his college playing career. He improved at every step of the way, and his love for the game never stopped growing.
Fast-forward to the final game of his senior year in college. He hit the game-winning penalty kick, and Jeff Ford was there watching. He asked Bunky if he would come join his coaching staff at McIntosh.
For a couple years, Colvin put his pre-law degree to use with designs on becoming a judge and a coach on the side. Eventually he realized that his heart wasn't in the court room.
"Everyday at 4:45 I'm getting my stuff together as quickly as I can, and all I can think about is getting in the car and going and coaching at McIntosh."
When Ford retired, Colvin took over as the head coach in 2000.
He thinks back to a particular game where the team was losing badly to Marist at halftime. Bilal Duckett, who would go on to play professional soccer, challenged his teammates, "Champions find a way. We have to find a way to win this game," Colvin remembered.
"Champions find a way" became their mantra going forward, and it still rings true. It brings the team together for every game on the pitch and in the brotherhood they can call on in times of heartbreak off the field.
For Colvin, victory goes deeper than just that on-field success, of which there is plenty. There were coaches and teachers that helped Colvin believe in himself, and it has become his purpose to pay that kindness forward.
"They just kind of poured into my life. At some point it just clicked that I want to do that for somebody else," he said. "I wanted to be somebody that poured into other people and helped them find their niche, their calling in life."
Colvin has found his purpose, and it fills his heart every day.
"Everybody was created to do something, and I think this is what I was created to do," he said. "There's nothing I would rather do in my entire life."
"The Honor Role," an official podcast for Fayette County Public Schools, features employees, rotating through key stakeholders, including teachers, staff, nurses, custodians, cafeteria workers, and bus drivers. Join us as we dive in and learn about their journeys, their inspirations, and their whys.
Episodes are available on all major podcast platforms, including Spotify and Apple Podcasts, and promoted on the social media channels of Fayette County Public Schools.
Episodes will also be available here: https://www.buzzsprout.com/2200811.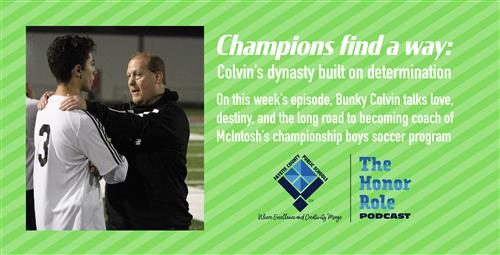 Posted 8/29/2023