Return to Headlines
One Spring Hill Educator Inspires Hundreds
One book, and 233 pages and 377 journal entries later, one woman has inspired hundreds with her words.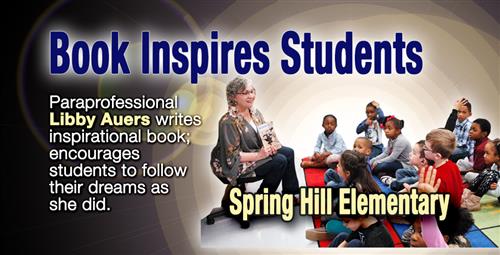 Libby Auers, a paraprofessional at Spring Hill Elementary, has turned her trials into triumphs in her first published book, "There is No Randomness About Your Life: A Journey of Faith, Hope, Love, and Strength," which tells the story of her personal journey through her husband's battle with cancer; starting from the beginning of his diagnosis until his final moments, and how she found purpose in the midst of pain.
After the advice of a doctor, Auers began documenting her authentic thoughts and feelings through various blog posts, she says, "The written word can be a very powerful tool. It can draw people in and give them understanding of something that they may not have experienced." From encouraging words from strangers to her husband's constant support, Auers took these journal entries and began the publishing process, one year later her book was published.
As an educator, this book has influenced her teaching in various ways. Writing a book has given Auers the opportunity to show her students the reality and the importance of understanding a book and connecting it to "real world" experiences, she says, "I want the students to know that a book isn't just something that sits on a shelf in the media center. Someone has to take the time to write the words, give feeling and meaning to all of those pages that lay in between a back and front cover."
"You really wrote a book?" was one of the reactions Auers received after students discovered that she wrote a book while other students took pride in knowing that their teacher was a "real author." Auers used this an opportunity to inspire students to set goals and go after them as she had always aspired to write a book.
Although this book focuses on her husband's illness, Auers does not want her students to dwell on the subject matter of the book but rather "focus on the fact that if they have a dream and a goal for themselves, it is attainable."
The book has revealed Auers vulnerability in ways unimaginable, but she says she is grateful because of the healing and peace it has brought her. She has also received encouraging words from people who have read her book stating, "I have received so many messages from people thanking me for sharing my experience and telling me that this book has strengthen their own faith."
With a strong faith as her foundation, Auers believes that it was, and still is, her faith that kept her strong during the year long journey with her husband's illness, and it is that same faith that brought her an overwhelming sense of peace after his death.
As Auers continues to write her second book, she believes she has found her purpose and that is to inspire others and give them hope. She says, "I'm inspired each day by the thought that every one of us has a purpose in our lives. We may not recognize it, but we can all strive each day to our best to find it."