Two Sandy Creek High School students have advanced to the state-level National History Day Contest after taking top honors at the regional competition.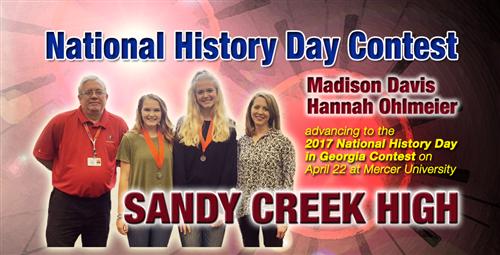 Madison Davis and Hannah Ohlmeier will compete at the 2017 National History Day in Georgia Contest being held at Mercer University on April 22. They will present their nine-minute History Channel style documentary about how Dian Fossey took a stand against poaching.
Sandy Creek High educators William Harris, social studies teacher, and Leigh Ann Bain, media specialist, assisted the students with their writing and research.
National History Day is a nonprofit organization that offers yearlong academic programs that engage middle and high school students in conducting and presenting original research on historical topics. Over the course of a school year, students select a topic related to the year's theme; this year's theme is "Taking a Stand in History."
Students engage in a program of research, in both primary and secondary sources, designed to investigate their topic and answer specific research questions. Their results are then presented through a variety of categories including exhibits, papers, documentaries, websites, and performances.
All entries, regardless of category, include a written component known as the "process paper," which discusses the reasoning behind the project, the research process, and the significance of the topic to the theme.