Return to Headlines
Students Featured in "Beast Beast" Thanks to New Community for Creativity Program, Students Shadow Film Production and Gain Experience
Fayette County students will be featured on the big screen as extras in the film "Beast Beast" that is being filmed in Fayette County this summer. This experience came about through a new program being piloted in the Fayette County Public School System through Rising Starr Middle School called Community for Creativity, a cross-curricular initiative connecting students to Georgia's creative economy through innovative partnerships and collaboration.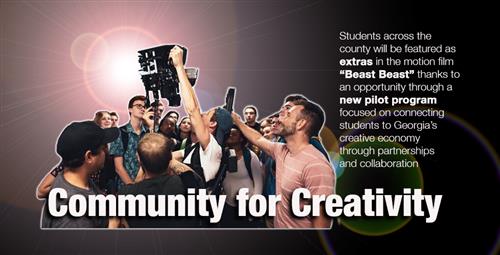 Through the Community for Creativity pilot program, the opportunity was arranged for several groups of students, including those from Savahna Silvas' drama classes at Starr's Mill High, to serve as extras in the film. Silvas has been tailoring her program's curriculum to reflect Georgia's booming film industry and says she was thrilled to have this opportunity for her students.
"This was an incredible experience for the both the students and myself. It allowed them to see classroom discussions unfold before them. It also gave me the opportunity to work with professionals and discuss ideas of what I can do in the classroom to best prepare students who plan to pursue this as a career," says Silvas.
One of her students, Natalie Robichaux, remarked, "The filming experience was a once in a lifetime opportunity. It was amazing to see how real films work and how everyone's part fits in perfectly. Being an extra was even more fulfilling because you get to be in the film while still seeing how filming a production happens. This experience will definitely help me in the future with my film classes and my eventual acting career."
"Beast Beast" producer Benjamin Weissner was as impressed with the students' talent and professionalism as they were with the opportunity to get a first-hand look at the production process, and he applauds the Community for Creativity program for making these experiences possible for Fayette County students.
"The students were sharp, inquisitive, and talented, you could see their eyes light up and the wheels start turning as we talked about the steps it takes to succeed, and I think it was invaluable to have them on set to see how we were doing it. Amazing to see how Fayette's Community for Creativity is giving students such important opportunities- we were honored to play a small part in that," says Weissner.
Another group that benefited from the experience was Fayette's dual enrolled film students, a program made possible in partnership with Southern Crescent Technical College and the Georgia Film Academy. Students in the class not only served as extras in the film, but also had the opportunity to shadow production jobs including lighting and grip, hair and makeup, costuming, props, sound design, and editing. Teacher Chris Holcomb remarked, "It was great having an opportunity this early semester for the students to experience film production. The students really enjoyed talking with the editor and producer, and this was just the right type of event to get the year started with a bang and inspire the students!"
A large contingency of the production team are alumni of McIntosh High School including Danny Madden (director), Tara Ansley (producer), Lauren Wilde (head of hair and makeup), Will Madden (actor and acting coach), and Jonathan Silva (grip). After "Beast Beast" finishes filming, the crew plans on visiting students enrolled in the Community for Creativity pilot program at Rising Starr Middle School to give a series of lectures offering insight into potential careers in the film industry. The team wants to film their classroom visits and send footage to other programs in Fayette County Public Schools that may have an interest in their students learning about the film industry.