Return to Headlines
Students Make the Holidays Brighter for Sheltered Animals at the Fayette Humane Society
A group of students at Bennett's Mill Middle are helping make the holidays a little brighter for animals at the Fayette Humane Society by organizing an Operation Santa Paws event at their school.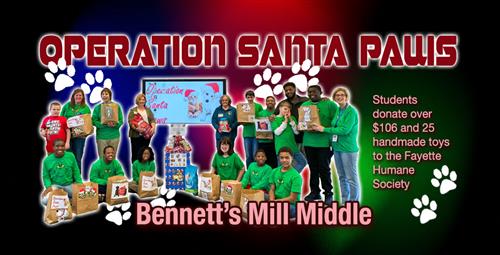 Students in the Exceptional Children's Services program in Michelle Ward's, Kim Walden's and Susan Boyd's classrooms collaborated to organize a two-week campaign to raise money and make toys for the cats and dogs that are being housed at the shelter over the holidays.
The idea for the service project came after the students read about Operation Santa Paws, a program started by California resident Justin Rudd in 2001. Since its inception, the program has spread nationwide with communities and organizations hosting fundraising events during the holiday season to provide toys, food, pet collars, and other necessities needed for sheltered cats and dogs.
The students collected over $106 for the Fayette Humane Society by making and selling cat and dog treats to staff members at Bennett's Mill Middle. To promote the fundraiser, they teamed up with their general education peers to create advertisement posters for the hallways, and produced a video that was featured on the school's website.
The students did all of the work themselves from designing the order forms and collecting the orders, to baking the pet treats and hand-delivering them to customers. In the process, they acquired valuable skills that they can apply to real-life situations in addition to learning how they can have a positive impact on their community.
"The project focused on social skills, technical skills, job skills, math skills, and budgeting skills, as well as advocating for needs in a community and meeting those needs, promoting positive change, and becoming contributing members of the community," says teacher Michelle Ward.
In addition to the monetary donation, the students also gave the Fayette Humane Society tennis balls that they collected from the Peachtree City Tennis Center, and 25 toys that they handmade from recycled water bottles, along with cat and dog food, blankets and cleaning supplies.
This was the first community outreach project conducted by students in the Exceptional Children's Services program at Bennett's Mill Middle, and Walden says she is extremely proud of what they accomplished and is looking at other service projects for them to complete this year.
"This was a phenomenal experience for all of our students. We are looking forward to other ways to positively impact our community," she says.