Return to Headlines
Student Receives National Award for Education Leadership Efforts, Help School Finish Second in Project Impact Competition
One tech savvy young man at Bennett's Mill Middle is stepping up to help both teachers and students use technology in meaningful ways, and at the same time is taking the lead to ensure he and his peers make a positive impact on the local community. He is described as "an outstanding young man who is a positive agent of change, and has a desire to serve people."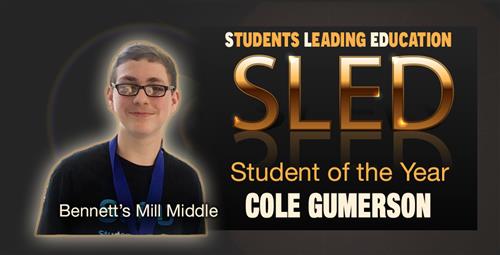 He is Cole Gumerson, and he is the Students Leading Education (SLED) 2018-2019 Student of the Year. SLED is a national network of student leaders who are engaging their school districts in solving real problems. The student of the year award is given to the SLED student who showed passion and heart in all that he or she did throughout the school year, and who is seen by others as a servant leader. A SLED advisor must recommend a student for the award.
Cole, a seventh grader, was recommended by his SLED advisor, Susan Hall. In Hall's recommendation, she states how Cole has assisted with the deployment of Chromebooks at the school, led the charge in helping students and teachers embrace the new connected classroom technology, and conducted a number of training sessions to help students, teachers and parents learn how technology can enhance learning. He has also been the driving force behind many of the school's philanthropic endeavors such as the creation of digitally and hand designed holiday cards for residents at a local senior living center, and assisting special needs students with a classroom fundraiser by teaching them how to create marketing materials.
Cole's heart and passion are to serve others, according to Hall, and to help people be better than they were before they met him.
"His energy and passion ensure his voice is heard and making a difference in and out of the classroom. He understands how his voice can help to drive the learning of the future. He strives for excellence in all he does and desires to make his school, community and world a better place," Hall noted in her recommendation.
Cole, who is also an outstanding student, is said to get as much pleasure out of teaching teachers about technology as he gets from learning. He helped one teacher at the school fix her Promethean board and document camera.
"Cole is able to speak to adults in a very mature manner. While showing me how to use the sketch feature on the board, he was patient and thorough, he did not get frustrated when I asked him the same question at least three times," says seventh grade science teacher Aimee Farmer.
After Cole helped Farmer, she returned the favor.
"Cole also gets excited about learning new tricks from teachers. I showed him how to embed a quizlet link in Blackboard, he was so excited and impressed," says Farmer.
At a young age, Cole has already shown that he has the makings of a future great teacher, and teaching is one possibility he is considering as a career.
"I am not sure what he gets more excited about, teaching or learning. He has expressed an interest in being a teacher, and I certainly see the giftings and talents within him," Hall says.
Cole's drive to embrace change and help others, along with that of his fellow SLED chapter members, garnered the Bennett's Mill Middle SLED chapter a second place recognition in the annual National Project Impact Competition. Chapters from across the nation were asked to submit a short video providing information on their project and its impact. The Bennett's Mill Middle video showcases students from the school working alongside students from Rising Starr Middle to develop practices, programs and procedures to help teachers learn more about technology from students. The almost five-minute video can be viewed on the SLED website at www.studentled.com.