Return to Headlines
Teachers Receive $10,000 State Grant for Industry Certification
With the help of a $10,000 grant from the Georgia Department of Education, teachers Julie McKenna and Laurie Davis at Starr's Mill High hope to achieve Healthcare Science Education Industry Certification for the school's healthcare science program.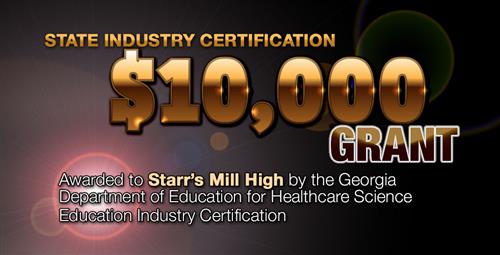 If the program achieves certification, it will be the first in the school system to hold the coveted credential. Only those programs that have successfully undergone rigorous reviews by leaders from business and industry are recognized with industry certification. Programs are typically certified for a period of five years. During that time, the school conducts an annual review to ensure that the program continues to meet certification criteria. At the end of the certification period, programs must reapply for re-certification.
The healthcare science program at Starr's Mill will have until the end of the fiscal year to secure certification. Teachers McKenna and Davis will be visited by an on-site review panel of local industry healthcare professionals who will conduct a comprehensive review of the program's operational and course standards, along with interviews with students, counselors and administrators.
The panel provides validation that the program and teachers are meeting the high standards needed to be identified as an industry certified healthcare science program. Programs identified as industry certified are those that include actively involved advisory committees, project-based instruction, career development activities, facilities large enough to allow for active learning and competency development, up-to-date technologies and equipment, dedicated teachers through professional development, an active student organization, and quality healthcare education as approved by the healthcare industry and Georgia Department of Education.
Since August 1999 to May 2018, a total of 201 schools and 278 teachers throughout Georgia have either received initial Healthcare Science Education Industry Certification or have been re-certified.