Return to Headlines
Community for Creativity Expands to Flat Rock Middle School; Launches Website
What would it look like if classroom conversations changed from "What are we learning about today?" to "What are we creating today?" Fayette County Public Schools is exploring that question through the Community for Creativity, a groundbreaking initiative that piloted last year at Rising Starr Middle School (RSMS) and is expanding to Flat Rock Middle School (FRMS) during the 2019- 2020 school year. In addition to growing the program, a newly launched website at www.CommunityforCreativity.org offers a platform to learn more about the initiative, and will feature progress throughout the year, with additional highlights also available by following @FayetteCreates on Twitter.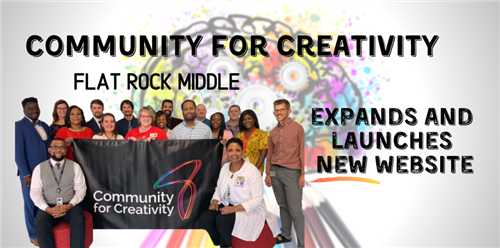 The pilot program's initial focus at RSMS explored creative industries with program offerings including music & recording, film & television, and art & design. This year's expansion to Flat Rock Middle School (FRMS) will use design thinking principles to study renewable energy & power generation, transportation & mobility, urban & ecological frameworks, alternative gardening & food sourcing, as well as connecting students to the creative industries.

Principal Jade Bolton said, "Flat Rock has a history of prioritizing project-based learning through STEAM (Science, Technology, Engineering, Arts, and Mathematics) applications. By becoming part of the Community for Creativity initiative, it allows us to move towards a full school model centered on using STEAM applications and innovation to create sustainable communities."

One critical component of the program is active engagement with industry professionals. During the inaugural year, RSMS leveraged the expertise of Pinewood Atlanta Studios, the Woodruff Arts Center, MaltMaker Media, and the Stage Academy of Music to engage students through guest speakers, field trips, project mentoring, and to provide professional development opportunities for teachers. Flat Rock Middle School hopes to accomplish the same through partnerships with Georgia Tech Research Institute, the American Council of Engineering Companies of Georgia, and local engineering and manufacturing firms. More information about industry partnerships can be viewed on the new website.

Fayette County Public Schools' Community for Creativity positions students as creators, leveraging collaboration and ingenuity to connect students to the creative economy. The Community for Creativity develops and nurtures students' ability to create original ideas, content, and solutions to real-world problems by connecting classrooms with industry and community partners and by promoting creative, collaborative problem-solving.