Return to Headlines
Signing Day for Fayette's First REACH Georgia Scholars
Fayette County Public Schools held its first REACH Georgia Scholarship signing ceremony at the board of education office to officially induct the school system's inaugural scholarship participants.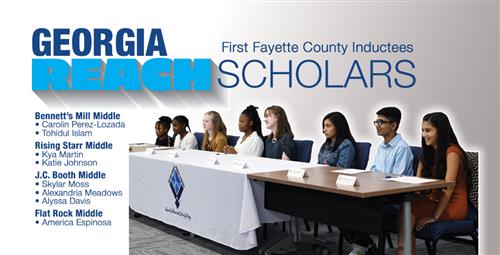 Eight scholars and their families, along with school system administrators, community volunteers, business leaders, and elected officials, attend the event to witness the students and their parents sign letters of commitment. The students are Carolin Perez-Lozada and Tohidul Islam of Bennett's Mill Middle; Kya Martin and Katie Johnson of Rising Starr Middle; Skylar Moss, Alexandria Meadows and Alyssa Davis of J.C. Booth Middle; and America Espinosa of Flat Rock Middle.
They are the first group from Fayette County Public Schools to receive college scholarships from REACH Georgia, a state public-private needs-based scholarship opportunity designed to encourage students, beginning in middle school, to continue their educational pursuits beyond high school. The initial award after they graduate from high school is $10,000 over four years, but that amount could increase to $20,000 if they attend a HOPE-eligible college or to $30,000 if they enroll in one of the institutions that will double-match it. Eligible students are eighth graders who have attained "C" grades or better in core subjects, have good attendance and behavior records, and have proven financial need.
REACH Scholars sign contracts pledging to meet academic and attendance requirements, meet with their academic coaches, and remain crime, drug, and behavior issue free. Parents and guardians also sign contracts to support these efforts. In addition, community members, REACH coordinators, volunteer mentors, and academic coaches commit their time and energy to helping these students achieve educational success.