Return to Headlines
Flat Rock Middle Wins at Steamify
For the first time ever, two teams of students from Flat Rock Middle School competed in Steamify at Augusta University with the teams walking away with first and third place awards.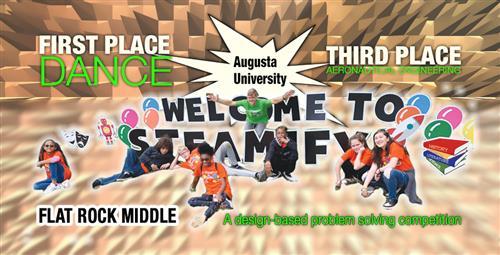 Steamify is a design-based problem solving competition that gives students in grades 4-8 the opportunity to apply what they are learning in school to the contexts of either engineering or art; helping them understand how this knowledge can be used in their daily lives. Competitive categories for middle school grades include aeronautical engineering, dance, debate, engineering, rocketry, spoken word, theater, and visual arts.
Flat Rock had one team enter the dance category and another enter the aeronautical engineering category. The dance team took first place. They are Zariya Johnson, Logan Hazlett, Adrianna Monterrosa, and Mariama Bah. The aeronautical team came in third place. Team members are Shyheim Brown, Sam Evans, and Robert Velat, Jr.
The competition consists of two parts: a long problem and a spontaneous problem that is given to the team at the time of the competition.
All teams worked off the context that a new city that had been created on an island off the coast of Georgia, and as the community developed, technological advances accompanied the expansion. Students were tasked with applying what they are currently learning to the exploration of technology in society.
The dance team was challenged to create a dance chronicling the evolution of robots and proposing how they will be used in the future. The aeronautical engineering team was tasked with designing a flying machine to transport citizens to and from the island without the use of fuel.
Teacher Jeff Eller was the coach for both teams.