Return to Headlines
Foundation Awards Teachers With Excellence and Creativity Grants
The Fayette County Education Foundation has awarded over $9,560 to teachers throughout the school system for their creative learning projects, making this the Foundation's largest single award in recent history.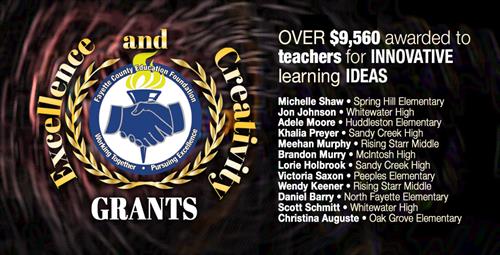 The funds were made available through the Foundation's Excellence and Creativity Grant program that offers teachers the opportunity to apply for grants up to $1,000 to fund their unique and creative ideas that will help enhance classroom learning. A total of 12 teachers across all school levels and a variety of disciplines received funding for their projects.
Teachers and their projects receiving awards this year include Michelle Shaw, The Great Outdoors Mobile Makerspace, Spring Hill Elementary; Jon Johnson, Wall Planter/Classroom Air Purification Project, Whitewater High; Adele Moore, Growing Minds, Huddleston Elementary; Khalia Preyer, Learning to Use Tools to Make Your Set Design Cool, Sandy Creek High; Meehan Murphy, Digital Fashion, Rising Starr Middle; Brandon Murry, Raspberry Pi Robots, McIntosh High; Lorie Holbrook, Music for Non-Verbal Students, Sandy Creek High; Victoria Saxon, Coaching through Coding, Peeples Elementary; Wendy Keener, Circuit Clay, Rising Starr Middle; Daniel Barry, Growing Great Students with a Sustainable Garden, North Fayette Elementary; Scott Schmitt, Challenge Coins, Whitewater High; and Christina Auguste, Bee Bots and Learning Mats, Oak Grove Elementary.
To date, over $180,950 in teacher grants have been awarded to schools since the Foundation handed out its first grants in 2002.
The Fayette County Education Foundations exists to solely support the Fayette County Public School System by providing funds for innovative, creative programs that offer the county's students the opportunity to have an enriched educational experience. The Foundation uses tax-deductible gifts to provide funds for opportunities above and beyond the normal operating budget of the school system.
The all-volunteer board meets monthly at the Fayette County Board of Education. Since the Foundation has no overhead costs, 100 percent of every dollar donated goes toward funding classroom and/or schoolwide projects that align with the curriculum being taught.