Return to Headlines
Flat Rock Middle's "What CAN It Be?" Promotes Healthy, Sustainable Communities
The Community for Creativity at Flat Rock Middle, with its focus on sustainable agriculture and healthy communities, is already making a positive impact on the Fayette County community and its residents.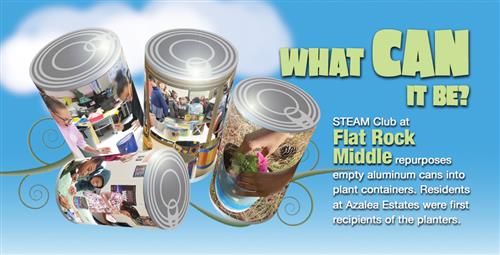 A few months ago, students in the school's STEAM (Science, Technology, Engineering, Art, Math) club started to look at what was being thrown away at the school and realized that some of those discarded items could be repurposed into something meaningful and useful, something that could benefit a large number of people. Specifically, what caught the students' attention was the number of empty, large food cans that were being thrown away from the cafeteria. The once useful aluminum cans, containing fruits, vegetables and sauces used to make breakfast and lunch items, were now empty and deemed trash, but the students saw something more.
Billions of aluminum cans end up in U.S. landfills each year; on average, only two percent are recycled. Determined not to let any more cans from Flat Rock become part of the billions taking up space in landfills, the students had the idea to take the discarded aluminum cans and turn them into containers for potted plants. The students decided to give their idea a name, "What CAN It Be?"
Students researched how to repurpose the cans to planters, created their own designs and applied them to the cans, studied plants that are best suited for small container gardening, and the soil requirements for those plants.
The school partnered with Azalea Estates Assisted Living at the beginning of the school year, and had invited the residents to come to the school for an afternoon of Checkers, Chess, Scrabble, and Connect 4. The students had so much fun with the residents of Azalea Estates that they wanted to do something to show their appreciation, something that not only would brighten their day, but also add value to their living environments. What better than to gift them with the first plant containers. The students completed the planters just in time for the holidays, and STEAM club advisor Jeff Eller hand delivered them to Azalea Estates the Friday before Christmas.
By simply looking through the trash and seeing what could be, students at Flat Rock Middle have benefitted the community in a number of ways. By recycling cans into plant containers, the students are helping reduce the number of aluminum cans in landfills, and they are learning to see discarded items in a different light to find ways to repurpose them. Senior adults have the benefit of having a live plant in their residences, which improves physical health by helping to purify the air, and improves mental health by giving them something to care for, and hopefully bring a smile to their faces each time they think about the student who made it all possible.