Return to Headlines
Flat Rock's FLL Robotics Team Makes School History
A robotics team at Flat Rock Middle has made history by becoming the school's first-ever team to win a FIRST (For Inspiration and Recognition of Science and Technology) LEGO League (FLL) Grand Champions Award at a state competition.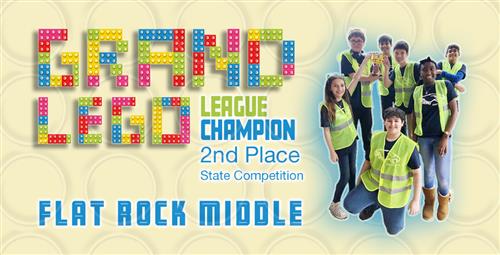 Team SAFE (Smart, Artistic, Fun Eagles) earned a second place Grand Champion Award, meaning that they had the best overall performance out of all schools in Georgia. Team members are Madison Lohr, Jya Lee, Gavin MClure, Devon Nandial, Darion Nandial, Jaden Torres, and Jack Jung. The team is coached by Melissa Lohr and Darryl Hutchinson.
FLL competition consists of three parts: an innovation project where teams choose and solve a real world problem, a robot game where teams build and program a robot to solve a set of missions, and a demonstration of core values, celebrating discovery, teamwork and gracious professionalism.
Grand Champion Awards are given to teams that embody the FLL experience by fully embracing the core values while achieving excellence and innovation in both the robot game and project.
Team coach Melissa Lohr, who has been coaching for five years and has taken students to the state competition for four consecutive years, has watched her teams win prestigious categorial awards, and while proud of their achievements, says that she has always imagined a time when they could be more successful at all aspects of FLL. When the day finally came, she describes it as unbelievable.
"When they called our team number it was like a slow motion out of body experience; it took all of us additional seconds to realize that it was us. To say we were shocked is an understatement," says Lohr.
The team advanced to the state contest by earning a high score at their FLL Super Regional competition. Their project was retractable speed humps to slow down speeding cars on the road in front of the school. The humps can rise during school zone hours and be lowered for the rest of the day, weekends, holidays, and summers.
Crabapple Lane Elementary also represented Fayette County at the FLL state competition, placing sixth overall in robot performance. They won the Grand Champions award at the Super Regional competition, which automatically advanced them to the state level.