Return to Headlines
Whitewater High wins first state cheer championship
It was a dream come true as Whitewater High won the Class AAAA GHSA competition cheerleading state championship on November 11, the first title in program history.
"This team has been a 'Dream Team.' They decided early on that they wanted a difficult routine, and they wanted to try a stunt that hadn't been done in GHSA - and they worked extremely hard to hit it," said Whitewater coach Sarah Frazier. "At one point I even asked them if they wanted to take it out because it was taking us a long time to get it solid, but they were committed to getting it and I am so proud of that! They didn't want to take an easy path. They fought hard for new skills, and, although it wasn't a perfect routine, the difficulty and their willingness to work hard paid off in the end."
The winning Wildcats are Addison Carden, Anna Enterkin, Gracie Ferguson, Karlee Frazier, Sophie Witt, Makenna Zeitel, Laney Byrom, Keria Eastman, Summer Laney, Nadia Miller, Phoenix Pool, Riley Smith, Laney Sutherland, Jolie Grant, Corinne Johnson, Amanda Moreno, Kyndall Frenelle, April Kukec, Sonoma Martin, Kerri Rhodes, and Kennedy Williams.
They are coached by Sarah Frazier, Jesse Tabor, and Callie Frazier.
It was a strong showing for the county in AAAA as Starr's Mill placed 3rd overall.
"In a division with some very talented teams, we finished the season undefeated," said Frazier. "I credit the seniors and their leadership. They were a huge part in making this season what it was. I can't say enough about how amazing this team is. I know they are on cloud 9, and I hope they savor and enjoy every minute!"
It was the first state championship for Whitewater and a milestone win for Frazier. This is her second year with the Wildcats after winning nine titles at Northgate High.
"One of the first things my new team at Whitewater did was write on the board 'make it 10.' They said they wanted to be my 10th win. I was so amazed and touched that they were thinking about me versus thinking about just winning state for themselves," said Frazier. "They have been unselfish from day one and have broken school records this year. They won the first cheer region championship in Whitewater history and also the first state cheer championship."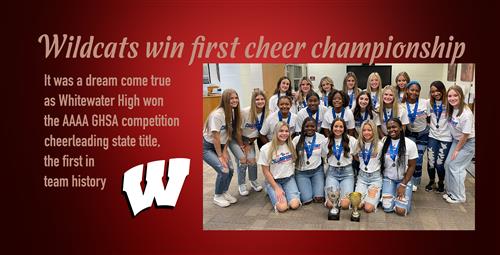 Posted 11/16/2022