Return to Headlines
Set up success: Ward engineers positive environment at Bennett's Mill
A heart for supporting his school community drives Bennett's Mill Principal JP Ward to help the Broncos thrive. Ward uses his unique background to set up everyone in the Bronco family to be the best they can be.
Education wasn't his first career. He studied mechanical engineering at Georgia Tech. He worked for a textile company, catching their eye with his natural leadership ability. They asked him to go to engineering management school, and he eventually became superintendent over a whole plant in South Carolina. It taught him how to be a leader, how to manage people, and how to set people up for success.
Ward's family moved to Fayette County when he was in the 2nd grade, and he has stayed for most of his life. He met his wife at Fayette County High, and their kids all graduated from the school. When his father-in-law asked him to take over his construction business, the family jumped at the chance to come back to Fayette. Later, with the economy in a downturn, Ward was considering a career change. He had a knack for explaining things so people can understand it, and he liked the idea of showing how math is used in the real world.
"Even when I was in high school, I had always thought I should be a math teacher," he said.
He was working a job at FCHS and talked to the principal at the time, Dr. Charles Warr, who had been his shop teacher. The timing was perfect because the school was set to be hiring math teachers, and Ward was hired on a provisional certificate. His first day of teaching was literally his first day of teaching, no time as a student-teacher.
"It was really the best decision."
He loved his time in the classroom, but he wanted to move into administration so he could have a larger sphere of influence.
"My goal everyday is just what can I do to make it even better, what obstacles can I remove, how can I help, how can I encourage," he said. "We have great people here, and it's what can I do to make it even better."
He calls being a principal the best job he's ever had, and it's the Bennett's Mill family that makes it great. They are dedicated to creating a home for the students to achieve.
"You've got to create that vision, that mission, of we're going to make difference," he said. "We've got kids here who really need us. They need people in their lives to pour into them."
"The Honor Role," an official podcast for Fayette County Public Schools, features employees, rotating through key stakeholders, including teachers, staff, nurses, custodians, cafeteria workers, and bus drivers. Join us as we dive in and learn about their journeys, their inspirations, and their whys.
Episodes are available on all major podcast platforms, including Spotify and Apple Podcasts, and promoted on the social media channels of Fayette County Public Schools.
Episodes will also be available here: https://www.buzzsprout.com/2200811.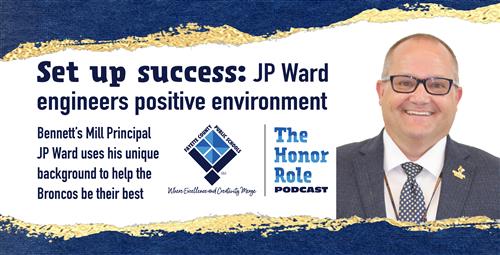 Posted 10/17/2023