Return to Headlines
Schools Honored for PBIS Work
Inman Elementary and Flat Rock Middle schools have been recognized by the Georgia Department of Education for supporting a positive school climate using the Positive Behavioral Interventions and Supports (PBIS) framework.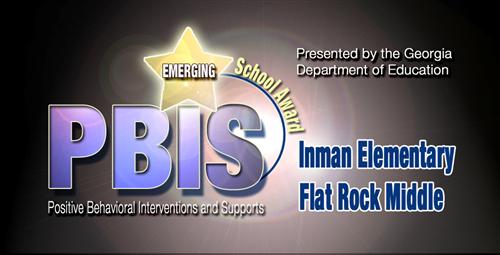 Both schools received the PBIS Emerging School Award for the 2015-2016 school year. The honor recognizes the schools for their effort, enthusiasm and commitment to PBIS. They are among 175 schools throughout Georgia to earn the distinction.
To receive this recognition, a school must show evidence that certain criteria were met, including having a school-based PBIS team that has participated in state training and completed fidelity activities, declining or stable discipline data, and a Benchmark of Quality score of 70-79 percent.
PBIS is an evidence-based, data-driven framework to reduce disciplinary incidents, increase a school's sense of safety, and support improved academic outcomes. The premise of PBIS is that continual teaching, combined with acknowledgement or feedback of positive student behavior will reduce unnecessary discipline, and promote a climate of greater productivity, safety and learning.
PBIS is based on the philosophy of recognizing positive contributions of students. Administrators, teachers, bus drivers, custodial staff, food service, and other support staff take the responsibility to teach positive behavior expectations to students. Students in turn know exactly what is expected of them, and can receive rewards for behaving in a positive manner.

For more information, contact: