Return to Headlines
Rehab and Fitness Center Staff Thank County Bus Drivers
Last month, right before Fayette County Schools went on their holiday break, Derenda Evans, a bus driver for Fayette County Schools and Wakitha Byrd, a monitor, noticed a vehicle driving erratically. When the car pulled over, they noticed that the driver appeared to need medical attention. The monitor wanted to take the driver to the emergency department at Piedmont Fayette Hospital, but the driver wanted to keep her appointment at the hospital's rehab and fitness center.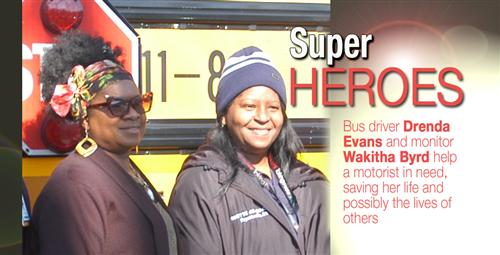 "We noticed that she was driving slower and slower, weaving onto the other side of the road and starting to face oncoming traffic," said Byrd. "When she pulled over, we asked if she was okay and she said that she needed some help."
Evans and Byrd moved the woman to the passenger seat of the car and drove towards the hospital. They knew that she would get medical attention at the Rehab and Fitness Center. Once there, the staff met the driver and got her over to the emergency department. On Tuesday morning, members of the Rehab and Fitness Center staff formally thanked Evans and Byrd for their quick-thinking and action.
"You saved her life and possibly the lives of others as well," said Jill Fenimore, director of rehab and fitness at Piedmont Fayette. "Our purpose at Piedmont Fayette is to make a positive difference in every life we touch and we just want to thank you for making a positive difference for our patient and the lives of so many others."
"We were just glad we were there," said Evans. "God put us in the right place at the right time."
Evans and Byrd were humbled by the praise and thanks, but they say they only did what anyone else would have done. Their first question upon meeting the staff on Tuesday was about the state of the driver. They were relieved to know that after a brief hospital stay, she was feeling better.
Evans, a bus driver for 17 years, the last four with Fayette County Schools, and Byrd, a monitor with Fayette County Schools for 11 years, work with special needs kids. Both stated unequivocally that they love their job and they love people. That love carried over to a heroic act that prevented a tragedy and gave the community something to cheer.