Return to Headlines
Sandy Creek Patriot Makes History at Allan Vigil Ford
Whether it's a two-hour workday during the week or an eight-hour workday on Saturdays, Sandy Creek High senior Aidan Nelson has enjoyed every moment of his internship at Allan Vigil Ford of Fayetteville.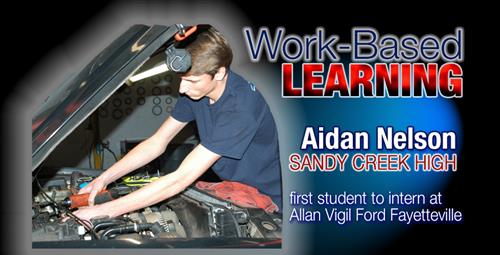 Aidan is a part of the work-based learning program, which helps students prepare for careers of their own choosing and strengthen their understanding of academic concepts through practical application. Students in the program must be at least 16 years old and have completed a career pathway. Aidan has completed two pathways: Automobile Maintenance & Light Repair and Engineering & Technology.
Aidan is the first work-based learning student to intern at Allan Vigil Ford. Allan Vigil's service manager Tim Black was excited about the opportunity to bring on a young intern to join the Ford family, he says, "It is important to help young people get into business and understand how everything works so I enjoy being able to guide Aidan."
"I've always wanted to work with my hands, but I just never knew what I wanted to do," Aidan says. With very little hands-on mechanic experience, Aidan has used this internship as an opportunity to learn, understand, and explore the world of auto mechanics.
Under the supervision of Brian Oldershaw, a 24-year Ford employee and Aidan's mentor, Aidan has been introduced to hands-on automotive training in new vehicle service, installation of accessories, and vehicle body service.
This internship has also offered Aidan the opportunity to take online training modules for Ford Standardized Training. Ford requires their employees to take these classes to learn about all aspects of automobile service. Oldershaw encouraged Aidan to just research the classes, but Aidan took it a step further and has completed over 60 training modules, most of these taken during his free time. Oldershaw says, "Aidan took it upon himself to go above and beyond what was required or expected."
Only interning for five months, Aidan says some of most important lessons he has learned are the importance of teamwork and willingness to learn. He says, "There is always help you can give and receive."
"Aidan has inspired the mechanics and technicians around him as well as the Ford company to share and expand their knowledge," says Mike Vigil, President of Allan Vigil Ford.
Service manager Tim Black is open and eager to having more work-based learning students in the future and wants to continue making positive investments in young people.
With graduation in sight Aidan is excited to see where the future takes him.