Return to Headlines
School system seeks community help with Purposity Holiday Angel Tree Program
Fayette County Public Schools wants your help supporting members of the community who need help the most. This year, they hope to again make wishes come true with their Purposity Holiday Angel Tree Program.
The focus of the Purposity Holiday Angel Tree Program is providing items of clothing, coats, shoes, personal hygiene items, etc. School counselors and social workers use Purposity to enter the needs of students and then notify the community to help meet those needs.
There are currently 650 essential needs posted on Purposity for over 200 students of all ages in schools across Fayette County. Items range in price, beginning at about $15 and up, with the average overall listing being $25.
Donors can find Fayette needs at www.purposity.com/@fcboe. You can scroll through to find an item cost and student profile that works best, and then, with a single click, meet a specific need, pay, and it will be delivered securely to the school for the student's family. To fill a second need, click up top on the blue "Fayette County Public Schools" to go back to the main page and make a second selection.
Purposity is an Atlanta-based nonprofit whose mission is to connect people in need with those who can help and accomplish this mission that makes it easy for neighbors to help neighbors.
School systems throughout Georgia and around the nation are using Purposity to help meet the needs of struggling students and their families who are having difficulty making ends meet due to a variety of issues such as illness, loss of income, change in family dynamics, or a catastrophe like a fire or weather-related damage. Purposity uses vendors like Amazon, Target, and Walmart to fulfill need requests with free shipping and at no cost to the schools.
Since Purposity is a nonprofit, all items purchased through the app are tax deductible, and 100 percent of the price of the item goes to pay for the student item.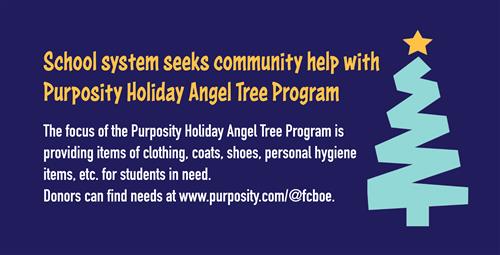 Posted 11/17/2022