E-Link Log In Instructions
The login screen will prompt you for your "User Name:" and "Password:"

Enter your STUDENTS ID # for both fields and click login.

The student's ID # can be found on the student's report card, Infinite Campus Parent Portal, or be provided by your student's school.

Once logged in, click "Work with Students"

Then click "View My Students"

And finally, click your student's name.

In the section under "Transportation Information," the pickup time is beside the stop location under "Time." Be prepared to board the bus 5 minutes prior to the bus stop time. Bus schedules will be inconsistent the first two weeks of school. After that, they should be on schedule.

The drop off time is located beside the stop under "Time."

No bus information?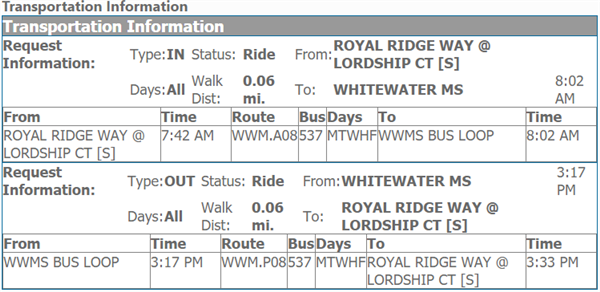 If your student shows a status of "Ride" with no bus information, bus stop, times, or locations.

The student has not yet been assigned to a bus stop. Please check back later.

If your student shows a status of "No Bus"

The most common reason is the student may not be registered for transportation. To register for transportation, CLICK HERE.